3 Reasons Microsoft Should Acquire Twitter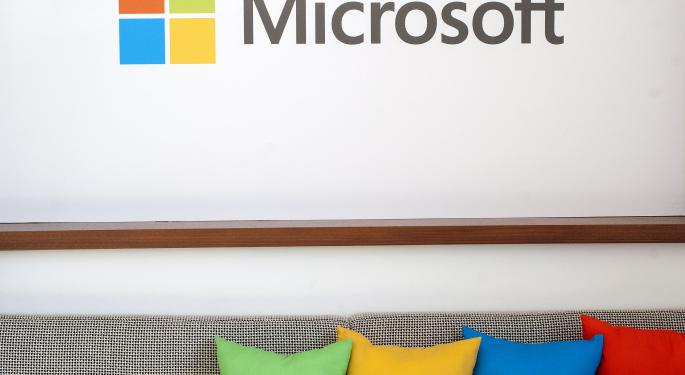 Twitter Inc (NYSE: TWTR) might end up receiving more media attention for its CEO shakeup and potential sale than it has for any new features introduced this year.
The social media giant endured a tough quarter that appeared to set off a chain of events that may eventually lead to a merger. Google Inc (NASDAQ: GOOG) and Facebook Inc (NASDAQ: FB) are reportedly the most likely buyers, but analysts have also discussed the potential for Apple Inc. (NASDAQ: AAPL) to make an offer.
B. Riley analyst Sameet Sinha told Benzinga that Twitter is "too far away" from Apple's business for that merger to make sense.
"Twitter is advertiser-driven," Sinha explained. "Apple doesn't do much advertising."
Twitter expert Sean Udall told Benzinga that he would prefer that Twitter stays solo. He said that provides the "most upside leverage to the stock when the upside catalysts start hitting once again."
Related Link: Will Facebook And Twitter Takeover Google's Ad Business?
If a deal had to occur, Udall argues that Apple or Google would get the most out of Twitter while avoiding the potential Department of Justice issues that could prevent a merger with Google or Facebook. However, he did offer three key reasons why Microsoft Corporation (NASDAQ: MSFT) should acquire Twitter:
1. Twitter 'Greatly Enhances Search'
"It greatly enhances its search platform and development," said Udall, who serves as the CIO of Quantum Trading Strategies and is the author of The TechStrat Report. "In fact, it might be even more important."
Udall believes that a Twitter buy might even be necessary to "keep Bing relevant -- or even competitively viable -- long-term."
"I'm not just thinking about competition with Google here, but anticipating competition against a future Apple search product," he said.
2. Long-Term Revenue Growth
Udall thinks Twitter could be a strong move to ignite another long-term revenue growth stream for Microsoft.
"In my view, Microsoft should be buying Twitter, buying more Big Data assets (SPLK, VRNS) and planning security purchases," he said. "Though buying security right now could result in yet another overpay. I'd advise waiting for a sector downturn and lower prices to go after."
3. It's Smarter Than Hoarding Cash
At the bare minimum, Udall said it would be smarter for Microsoft to buy Twitter than to continue hoarding cash.
"Moreover, Microsoft needs to shake the spectre of formerly poor to very poor M&A," Udall added. "They either bought the wrong stuff and what they purchased (even the better assets), they greatly overpaid for. Twitter currently is on its heels -- it's trading at less than half the valuation it was the last time it traded here. Thus, doing a deal now would be [a] well-timed M&A and not the huge overpay of many historic deals."
Disclosure: At the time of this writing, Louis Bedigian had no position in the equities mentioned in this report.
Posted-In: B. Riley Facebook Google Sameet Sinha Sean UdallTop Stories Exclusives Tech Best of Benzinga
View Comments and Join the Discussion!