Cisco Exec: 'Internet Of Things' Will Cut Costs For Automakers, Startups And Consumers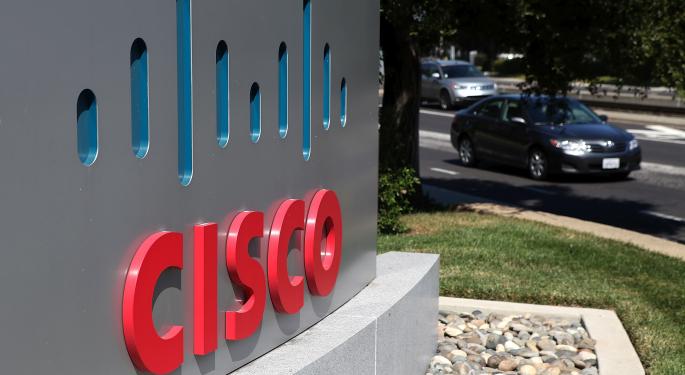 The Internet of Things could have a more meaningful impact than investors anticipate.
Cisco Systems, Inc. (NASDAQ: CSCO)'s Director of Smart Connected Vehicles, Andreas Mai, thinks that IoT will cut costs for consumers and businesses.
"It will actually cut out costs," Mai told Benzinga. "Per vehicle that we connect. we will create benefits in the range of $1,400 per year -- $550 of that for the consumer."
Mai said that consumers' operating and insurance costs will go down after IoT is implemented.
"[Consumers will spend] less time stuck in traffic," Mai added. "About $420 [will be saved] for society. There's a cost attached to congestion, a cost attached to crashes. If you take that (and also pollution) out of the equation, it's another $420."
Roughly $300 will be saved by automakers.
"Remote diagnostics, more stickiness with their customers, over-the-air updates, [benefits] like this," said Mai. "And then another $160 for startups…that build a business about the kind of convenience, features, that you can create when you have connectivity -- parking, smarter navigation, location-based services [and] insurance-based programs."
Additional Benefits
David Miller, chief security officer of Covisint Corp (NASDAQ: COVS), thinks IoT is essential to improving navigation.
"Once we really have the ability to be connected into a vehicle, we truly will have the ability to get to places in a more efficient matter," Miller, whose company recently expanded its strategic relationship with Cisco, told Benzinga.
"If my car could truly find the best route in real-time, and it figures it out -- and I think this is where autonomous vehicles become helpful -- I may take very strange routes places," he added. "But imagine if that's all in one large network, so what it's really doing is rerouting all the vehicles in a smart way."
Miller expects this to have another benefit: reduced travel time.
"That whole connected vehicle thing allows us to actually spend less time in a car, not more time in a car," he said.
'More Fun'
Mai said that IoT can "bring more fun into my commute."
"And it can eventually turn the vehicle into a smart helper, because a vehicle that can communicate with the roadside infrastructure, with my home, can help me do things that I may regard as mundane," Mai explained. "Turn on/turn off the air conditioning, lift or close the garage door, slow down before a traffic light turns (conserving energy), speed up at intersections like a swarm of fishes because the vehicles can communicate with each other."
In the "ultimate world," Mai said that traffic lights could be eliminated "because [automobiles] can just communicate and find the place to fast-cross an intersection."
"Smart helper and more enjoyable rides is what we can expect," he added. "And obviously safer [rides] because a vehicle that can communicate with other vehicles [and] warn against imminent danger makes your ride safer."
Disclosure: At the time of this writing, Louis Bedigian had no position in the equities mentioned in this report.
Posted-In: Andreas Mai Cisco Covisint David MillerTop Stories Exclusives Tech Interview Best of Benzinga
View Comments and Join the Discussion!