What's Causing Apple Inc.'s iPhone 6 Plus To Bend?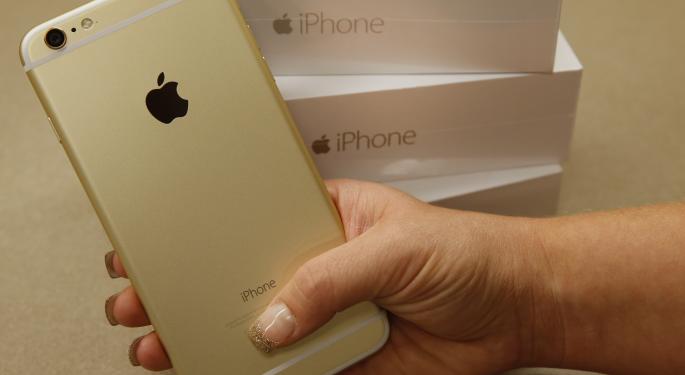 Apple Inc.'s (NASDAQ: AAPL) iPhone 6 Plus has become the first bendable iPhone, but not in the way consumers may have hoped.
The device carries a bill of materials and manufacturing cost of $215.60 ($15.50 more than the standard iPhone 6), but retails for $749 without a contract.
"I think this is probably one of the unintentional side effects of just phones getting larger and larger in size," IHS Technology senior analyst Daniel Gleeson told Benzinga. "Obviously it means that the supports are much further apart, so it's more susceptible to bending."
Related Link: The Apple Inc. Watch Versus Competitors: What Do Analysts Think?
Andrew Rassweiler, IHS' senior director of cost benchmarking services, found something unusual when he and his team conducted the iPhone 6 teardown: There wasn't any adhesive fixing the screen to the rear enclosure.
"On a lot of the devices that we take apart, you have to heat it -- you have to heat the cover -- because they're using adhesive all around the perimeter to glue that screen to the back," Rassweiler told Benzinga. "That gives it structural rigidity. The 6 and 6 Plus did not have adhesive on the screen."
Rassweiler said that the lack of adhesive is great for serviceability, but that may have also created or enhanced the problem.
'Ridiculous' Headlines
Sean Udall, CIO of Quantum Trading Strategies and author of The TechStrat Report, doesn't think that #BendGate is much of an issue.
"The fact that this has made headlines just shows you the ridiculous extent that people will find negatives on Apple," Udall told Benzinga. "Especially when they're delivering pretty much on all cylinders."
After conducting its bend test of the iPhone 6 Plus, Unbox Therapy did the same for Samsung's Galaxy Note 3. The Note 3 held up slightly better, but Udall questioned the results.
"Who's to say he's applying the same force?" said Udall. "Heck, he might be tired from applying so much force to the iPhone that he is physically exerted and can't possibly apply the same force."
SquareTrade, a gadget insurer, conducted a series of durability tests and told The Wall Street Journal that the iPhone 6 is the most durable iPhone ever made.
Related Link: Apple Inc.'s Record-Breaking iPhone 6 Sales The Result Of 'Pent-Up Demand'
The 'Microsoft-ization' Of Apple
After hearing about #BendGate and the many iOS 8 bugs, analyst Dan Miller started to think that Apple is turning into one of its competitors.
"You can call it the Microsoft-ization of Apple," Miller, founder of Opus Research, told Benzinga. "The idea that an operating system gets released with bugs… It's not as surprising as you might think. It just sounds as bloated as some of the failed Windows [versions]."
No More Cheap iPhones
As far as the pricing and manufacturing costs are concerned, Rassweiler said that Apple is no longer "chasing the lower dollar or [building] cheap iPhones anymore."
"I think that consumers aren't looking for something cheaper, they're looking for something bigger," he said. "If there's going to be a cheaper version, it's always going to be the legacy version that gets down priced after a year, right? Like the 5S, etc."
I accidentally left my iPhone 6 Plus in my sweatpants during hot yoga. In the good news column, now it looks like an origami swan.

— Ellen DeGeneres (@TheEllenShow) September 24, 2014
Since the margins are so high on premium iPhones, Rassweiler suspects that the new storage configurations (16GB, 64GB and 128GB) were implemented to persuade consumers to purchase a more expensive model.
"At each additional configuration, they're going to make $100 more whether it's for the bigger screen and/or another $100 for the next up memory configuration," he added. "Each one of those comes wrapped in additional profit dollars."
On that note, Udall praised Apple as a "reseller of memory for high margins."
"Each increase, each doubling of the memory, what did they charge on that? An extra $100," said Udall. "Apple's not paying an extra $100. That's been one of the best margin benefactors for Apple the whole time -- the fact that they are basically reselling memory and they're getting a good margin for it. It's somewhere between a 50 and 100 percent margins each incremental doubling of the memory."
Disclosure: At the time of this writing, Louis Bedigian had no position in the equities mentioned in this report.
View Comments and Join the Discussion!
Posted-In: Andrew Rassweiler comments Dan Miller Daniel Gleeson IHS Technology iPhone 6 PlusTop Stories Tech Best of Benzinga