Apple Inc.'s Refresh Cycle Should Be 'Vigorous' At September 9 Event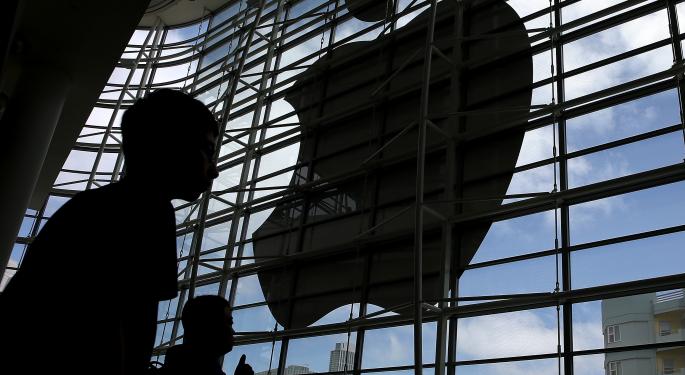 From the iPhone 6 and the iWatch to any number of surprises, Apple Inc. (NASDAQ: AAPL) is gearing up for a big event this week.
"My understanding is that the Apple refresh cycle should be quite vigorous compared to where it was a year ago," Argus Research analyst James Kelleher told Benzinga. "Many more people purchased [the iPhone 5] than 5S [units]. I think a lot of two-year contracts are coming up. [And] there's a lot of interest. I would expect a pretty good response."
While there have been some concerns that Apple's first smartwatch could skip the September 9 event, Pacific Crest analyst Andy Hargreaves thinks it might make an appearance.
Related Link: Best iPhone 6 Leaks And Concept Art
As far as specific expectations are concerned, Hargreaves envisions a device that looks good and offers a battery that lasts more than a day.
"Hopefully several days," Hargreaves told Benzinga. "Outside of that, I'm not really sure. I'm interested to see."
Bigger Screen But Not Indestructible?
Many were hoping that the iPhone 6 would feature the indestructible display that has been hyped all over the Web, thanks to a plethora of rumors and videos like this:
Unfortunately, Hargreaves doesn't expect the iPhone 6 to launch with a sapphire display.
On a more positive note, Hargreaves believes that the 4.7-inch iPhone 6 will retail for the same price as the iPhone 5S. He anticipates a $100 premium for the 5.5-inch model.
No More Duds
Kelleher expects the iPhone 6's unveiling to be much more impressive than that of the iPhone 5.
"The 5 was considered a dud because the 4S was a [technological] step forward with Siri," he said. "Whereas the 5, the main technology announced at the time, [Apple] Maps, was a big flop. This time I think there will be a lot more focus on mobile wallet and e-commerce applications and a little bit of iWatch, tying all this stuff to iHome, iHealth, iWallet, all that stuff."
Lastly, Kelleher spoke about the way investors reacted to the iPhone 5's launch.
"Two years ago, the 5 launch was such a disaster for the stock, going from $700 eventually down to $400," he explained. "I think [the 6] will be a more muted event for the stock. [Investors will] wait and see how their first selling quarter turns out."
Disclosure: At the time of this writing, Louis Bedigian had no position in the equities mentioned in this report.
Posted-In: Andy Hargreaves Apple Argus Research comments HealthKit HomeKitTop Stories Tech Best of Benzinga
View Comments and Join the Discussion!