The Tesla Shareholders Who Benefit The Most From The Q2 Delivery Beat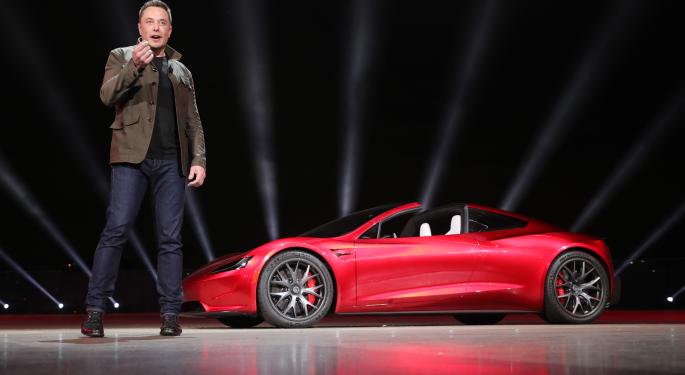 After announcing many more second-quarter vehicle deliveries than Wall Street expected, Tesla stock set new records, closing above $1,200 for the first time.
While this is great news for the company, stock holders also benefit greatly from Tesla's success. The following are some of the biggest beneficiaries.
Elon Musk: The CEO of Tesla has a 21% stake in Tesla, equating to around 38.7 million shares. With Thursday's stock rise alone, Musk gained a staggering $3.44 billion.
Kimbal Musk: The brother of Elon Musk and chairman on the board of directors owns around 130,000 shares of Tesla. After Tesla's delivery announcement, Kimbal Musk gained $11.5 million. Not bad for a single day's gain.
Ron Baron: Baron's investment firm holds over 1.6 million shares of Tesla. Baron believes Tesla has much more room to grow, along with Musk's other company SpaceX, in which he is also an investor. Baron's firm gained over $140 million in a single day thanks to the hefty stake in the automaker.
Susquehanna Securities: This is the largest institutional investor in Tesla, with over 12.1 million shares. Thanks to being the second-largest Tesla shareholder in the world, after only the CEO himself, this firm earned over $1 billlion in a single day.
Baillie Gifford & Co.: This is the second largest institutional investor in Tesla, with almost 12.1 million shares, similar to Susquehanna Securities. This firm manages over $250 billion in investments. Well, make that $251 billion, as Baillie Gifford was able to add another $1 billion on the back of Tesla's large one-day gain.
Benzinga's Take: Tesla's IPO price was $17, and 10 years later, the stock closed with a price of $1,208. A $1,000 investment in Tesla's IPO would be worth over $71,000 today. Investing in a company before it has proven its worth can be a tough decision, but can pay off big time, as you can see by the examples above.
But with approximately 500,000 cars expected to be delivered this year, battery storage, solar energy and software development, it seems Tesla may still have room to grow from here.
Photo courtesy of Tesla.
View Comments and Join the Discussion!
Posted-In: Baillie Gifford electric vehicles Elon Musk EVs Kimbal Musk Ron Baron SusquehannaTech Best of Benzinga