PlayStation 4 Vs. Xbox One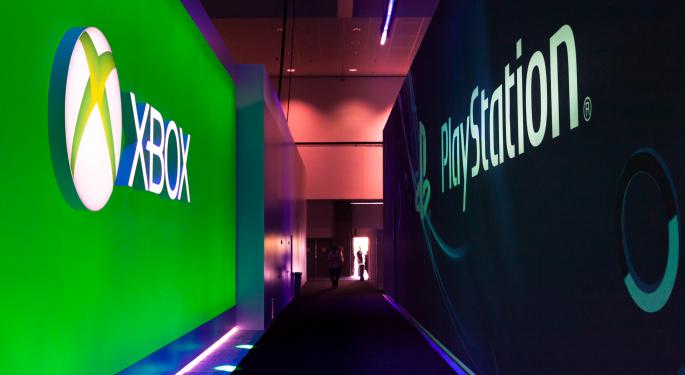 Which new console reigned supreme on launch day?
Which one will dominate the market over the next several years?
Benzinga investigated Sony (NYSE: SNE) and Microsoft's (NASDAQ: MSFT) new game consoles to find out.
Launch Lineup
First and foremost, it should be said that PlayStation 4 and Xbox One both offer the most popular third-party games: Call of Duty: Ghosts and Battlefield 4, along with numerous others from Activision (NASDAQ: ATVI) and Electronic Arts (NASDAQ: EA). Going into next year, other important games -- including Konami's (NYSE: KNM) Metal Gear Solid franchise -- will also appear on both consoles.
For the purpose of this article, Benzinga will only focus on the exclusive games, such as Killzone: Shadow Fall for PlayStation 4 and Forza Motorsport 5 for Xbox One.
In addition to Killzone, PlayStation 4 launched with Knack, Resogun and PlayRoom (a demo/mini-game collection that comes with the new PlayStation camera).
Killzone is definitely the star of the show, but fans of side-scrolling shooters may have a soft spot for Resogun. Knack is a family-friendly action/adventure game, but the clunky controls, repetitive combat and disappointing visuals leave a lot to be desired.
Xbox One's exclusive lineup includes Dead Rising 3, Forza Motorsport 5, Crimson Dragon, The Fighter Within, LocoCycle and a new Killer Instinct.
Dead Rising 3 is by far the best of the bunch. The game embodies the essence of its predecessors, all the while increasing the intensity with tougher enemies and a greater number of zombies that swarm the streets.
Forza Motorsport 5 is a fun racing game, but it looks and feels like it could have been made for Xbox 360. The flat backdrops (trees, cheering crowds, etc.) are particularly disappointing.
Killer Instinct is a great fighting game, but its limited character lineup and odd pricing structure (the game is technically "free" but you have to buy individual characters or purchase a character package) could hurt its long-term sales potential.
Those three games are worth a purchase (flaws and all), but consumers would be wise to avoid the on-rails monotony of Crimson Dragon.
Benzinga has yet to test LocoCycle and is still waiting for its copy of The Fighter Within to arrive. Even so, there's no denying that Xbox One is the launch lineup winner.
To be clear, this critique has nothing to do with the games that are released from here on out. But in terms of launch titles, Microsoft assembled a better collection than Sony.
Part of this is Sony's fault -- the company delayed the release of a racing game, Driveclub, that could have competed head-on with Forza 5.
Nonetheless, if a console's worth was based solely on the games that people could play on day one, Xbox One would be the champion.
Looking back, however, the original Xbox also had a better lineup than PlayStation 2. The two consoles were released 13 months apart, giving Microsoft more time to prepare.
Related: Will Xbox One's Non-Interactive Entertainment Features Trump PlayStation 4?
The launch proved to be irrelevant though. By the time Xbox arrived, PlayStation 2 had more triple-A exclusives (including Metal Gear Solid 2 and Grand Theft Auto 3) than any of its competitors.
On the flipside, Xbox 360 had a terrible launch lineup, but it proved to be a fierce competitor to PlayStation 3.
Hardware
There has been a lot of talk about the differences between PlayStation 4 and Xbox One's hardware, especially after it was revealed that the Xbox One version of Call of Duty: Ghosts will only run at 720p.
In an unrelated discussion about game resolution, Ubisoft (OTC: UBSFY) Associate Producer Sylvain Trottier said that consumers will definitely notice a difference if a game is at 720p.
"If [a game is] running at 720p vs. 1080p, you're going to notice the difference, by far," Trottier told the official Ubisoft blog.
While that may be true with the biggest and most beautiful high-definition screens, the average consumer is unlikely to notice a massive difference between the launch games of either console.
Killzone: Shadow Fall, the most notable exclusive game on PlayStation 4, is rich with ultra-high resolution textures, colors and lighting. But the game itself is only marginally above the visual experience consumers can expect from a PlayStation 3 game.
Similarly, Dead Rising 3, the most significant exclusive game currently available for Xbox One, is not light-years above Xbox 360. The character and environmental details are superb, but it's not hard to envision the game running on Xbox 360, albeit with fewer zombies crammed onto one screen.
This is the unfortunate drawback of the new generation of game consoles. While it is not uncommon for developers to release launch games that are less than visually perfect, this is the first time that consumers won't notice a significant leap forward in technology.
Related: One In Every Three PlayStation 4 Games Sold Is From Electronic Arts
Xbox One and PlayStation 4 are very powerful consoles, to be certain. In the coming months, there will be tons of next-gen games that will blow their Xbox 360 and PlayStation 3 counterparts out of the water.
For the time being, however, consumers might feel like they are using consoles that are just slightly above the machines they purchased seven or eight years ago.
New Controllers
PlayStation 4 and Xbox One both ship with new controllers. The former features a touch pad (but not an actual screen) that could be used to create an entirely new gaming experience. The Xbox One controller is more traditional, featuring a minimalist design that is surprisingly appealing.
Both controllers have great grips, smooth analog sticks and wonderful face and shoulder buttons.
While the Xbox One controller may not offer any features that are truly new or innovative, it does have one advantage over all other controllers: the directional pad. It has the perfect amount of pressure resistance, making it the best D-pad for fighting games.
To be fair, the PlayStation 4 controller still feels like it will be great for fighting games. But Xbox One seems to have an advantage in this regard.
Long-Term Potential
As the consoles mature over the next several years, PlayStation 4 may have the advantage in terms of raw processing power. If developers optimize their games for each console (as they have in the past), consumers will begin to notice a significant difference in graphic quality.
This may not matter to the Halo fan who primarily cares about Microsoft-developed games. But it could matter to those who want the very best version of Call of Duty or Metal Gear Solid.
Indie developers will continue to argue about which console is best, but there are more than 180 games in development for PlayStation 4. Sony claims that this is more than any other next-gen platform. Microsoft has not said how many games are coming to Xbox One, so no one has been able to refute Sony's claims.
If Microsoft continued to have a better lineup of exclusive games, the overall lineup may not matter. But if more developers are on board with Sony, PlayStation 4 will be more likely to get a higher number of triple-A games.
Sony also has the price and sales advantage. After one day of sales in North America, Sony announced that PlayStation 4 (which retails for $399) had sold one million units.
Xbox One (which retails for $499) sold just as many units but only after being released in 13 different markets. PlayStation 4 has only begun its global rollout. When the console arrives in Europe on November 29, it is likely to increase its sales well above the one million mark.
For better or worse, this is another feather in Sony's cap. Console manufacturers attract developers not only by selling large numbers of consoles but by having the potential to sell even more. If Sony dominates the market, its hardware will receive more games than any of its competitors -- period.
Third-party developer and publisher support is very important to Sony's future. While Nintendo (OTC: NTDOY) and Microsoft command a number of key franchises, Sony's biggest games tend to only sell a few million units each. By comparison, Microsoft's Halo 4 sold 8.49 million copies. Nintendo's Super Mario Galaxy sold 10.88 million units.
Thus, Sony needs third-party developers more than its competitors. If the initial sales and development responses are any indication, it seems that Sony will get what it needs.
Related: Sony's $399 PlayStation 4 Costs $381 To Produce
Where does this leave Microsoft? After reversing its atrocious policies, Microsoft repositioned Xbox One as Sony's greatest threat. With a number of great exclusives and more on the way, the console will be a formidable competitor to Sony.
Every console generation has been bigger than the last, so there's a good chance that consumers will purchase more than 240 million combined units of PlayStation 4, Xbox One, Wii U and the forthcoming Steam Box.
With that many potential buyers, the number-two player -- whoever it may be -- is still likely to enjoy massive sales.
Disclosure: At the time of this writing, Louis Bedigian had no position in the equities mentioned in this report.
Louis Bedigian is the Senior Tech Analyst and Features Writer of Benzinga. You can reach him at louis(at)benzingapro(dot)com. Follow him @LouisBedigianBZ
View Comments and Join the Discussion!
Posted-In: Call of Duty Call of Duty: Ghosts Dead Rising 3 electronic arts Forza Motorsport 5 Grand Theft Auto 3Tech Reviews Best of Benzinga