More Than 240 Million Consumers Could Buy PlayStation 4, Xbox 720, Wii U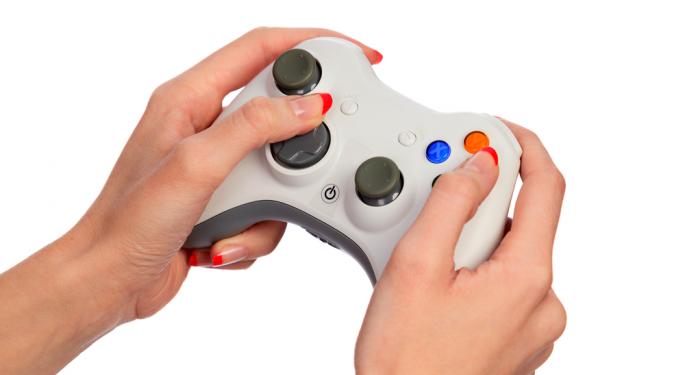 It might be hard to tell when looking at the sales figures for Nintendo's (OTC: NTDOY) latest game machine, but the console game market is actually growing.
In fact, it has been growing for more than 20 years.
According to VGChartz, which chronicles the lifetime sales figures for almost every console released, Nintendo sold 49 million units of the Super Nintendo Entertainment System during the '90s. At the same time, Sega sold 28 million Genesis consoles. With few other gaming options available (Game Boy and other handheld devices excluded), it is safe to assume that the industry peaked with those units. Thus, when the next slate of consoles arrived, manufacturers had roughly 77 million consumers to go after.
During the next era, Sega dropped significantly, selling only 8.8 million units of the Saturn. Nintendo sold 32.9 million Nintendo 64 consoles -- a respectable number, to be certain, but far lower than the Super NES or even the original NES, which sold 61.9 million units.
Sony, however, sold 104 million PlayStations. When the sales of all three consoles were combined, the market potential had been raised significantly to more than 140 million consumers.
The trend continued when the next batch of consoles arrived. Sega's Dreamcast was in-line with its predecessor, selling eight million units. Nintendo plummeted and sold only 21.7 million GameCubes. Microsoft (NASDAQ: MSFT), the new kid on the block, sold nearly 25 million Xboxes. Sony, the reigning champion, sold 153 million PlayStation 2 consoles.
With those four consoles, the market had risen to more than 207 potential buyers.
The market grew even larger when the next consoles were released. Microsoft nearly tripled its sales of the original Xbox by selling more than 74 million Xbox 360 units. Nintendo set a new record by selling 98.8 million Wii consoles -- double the number of Super NES units it sold in the '90s.
Sony, however, did not perform as well. The company has only sold 72 million PlayStation 3 units since it was released in the fall of 2006. In order for Sony to match its previous record, the aging console would have to double its sales over the next five years. That is not likely to happen now that PlayStation 4 is on the horizon.
Even so, the combined sales of these three consoles set a new record: more than 244 million units.
This could explain why Sony is so eager to unveil its next console -- to start cashing in on the millions of consumers that might be interested in buying the next PlayStation.
Follow me @LouisBedigianBZ
Posted-In: Microsoft Nintendo PlayStation 4 Sony Wii USuccess Stories Tech General Best of Benzinga
View Comments and Join the Discussion!