Apple CEO Tim Cook May Have Given The Best Response To Apple Haters In History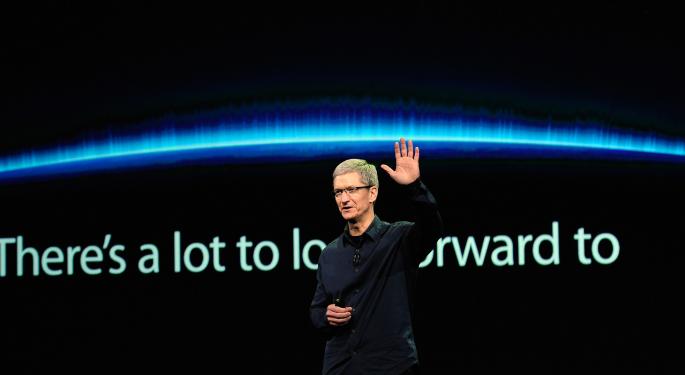 Apple (NASDAQ: AAPL) certainly isn't a company that goes looking for the nearest camera or blogger.
It has a culture of keeping to itself. Its comments are often short and vague and even in the midst of harsh criticism, it remains silent as a rule.
But like that quiet friend, when Apple executives speak, the words make an impact. The impact was made most recently in an interview CEO Tim Cook, Software chief, Craig Federighi, and head of design Jony Ive gave to Bloomberg.
The media—which includes the largest publications to the smallest bloggers, constantly have something new that Apple should worry about. Whether it's the Chinese market, its stock price, Android market share numbers, or the fact that the iPhone isn't the phone for the commoner, Tim Cook isn't worried about any of that.
Related: Research Finds That Apple's Fingerprint Sensor Only Works on Live Fingers
On the company's stock price, he says, "I don't feel euphoric on the up, and I don't slit my wrists when it goes down," he says. "I have ridden the roller coaster too many times for that."
When asked about Google (NASDAQ: GOOG)'s Android market share, he points out that while its numbers are higher than Apple's the bulk of mobile web traffic comes from an Apple device.
He was asked about the rise of low-cost mobile manufactures and he said, "It happens in every market I've seen," he says. "It happens in all consumer electronics, from cameras to PCs to tablets to phones to…. I can't think of a single consumer electronics market it doesn't happen in."
But what might be the best Apple response in history, Cook wanted to make it clear that Apple doesn't have any plans to enter the low-cost cell phone business.
"There's always a large junk part of the market," he says. "We're not in the junk business."
His words are similar to Steve Jobs' attitude that Mercedes, BMW and Porsche are all examples of how there's plenty of room in the market for luxury brands that cater to the higher-end consumer.
Responding to criticism of Apple's slowing pace of innovation, Federighi says, "New? New is easy. Right is hard."
Disclosure: At the time of this writing, Tim Parker was long Apple.
Posted-In: Android Apple Google Tim CookTech Best of Benzinga
View Comments and Join the Discussion!