Google's Top Valentine's Day Search Will Shock You
Those who search Google.com today (all one zillion of you) will instantly notice the Valentine's Day-themed Doodle resting on the logo.
Click the play button (a sideways triangle placed on top of a reddish card) to see a fun and amusing animated short about a boy who tries everything in the world to impress the girl he likes – and nearly fails. He only succeeds after realizing that the only way to her heart is to show interest in her favorite hobby.
After the animation is over, Google (NASDAQ: GOOG) automatically loads a search for "Valentine's Day," which instantly brings up the following: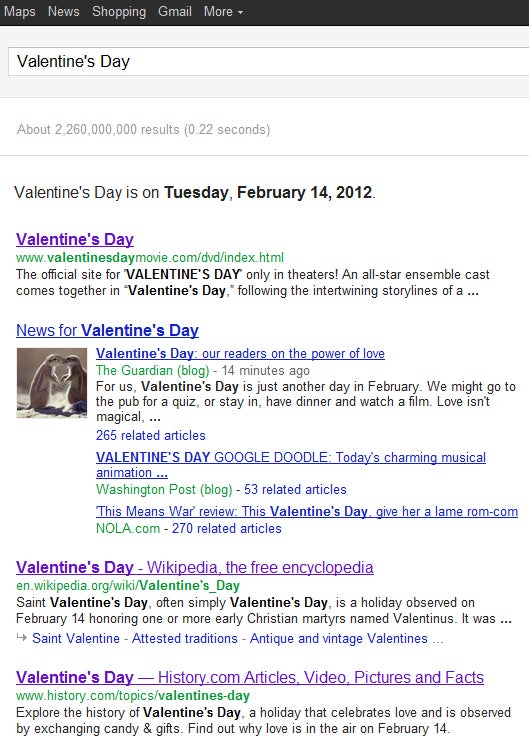 Take a close look at the top searches. Toward the top (under "News for Valentine's Day") we have an article from The Guardian about the power of love. That makes sense. The news results also include a story from the Washington Post about today's Google Doodle, along with an amusing review of the film "This Means War" from Nola.com, in which the author writes, "This Valentine's Day, give her a lame rom-com."
Wikipedia's listing for Valentine's Day also makes it into the search results, providing a lengthy history of the holiday and its various celebrations and traditions worldwide. History.com has posted a cornucopia of videos for Valentine's Day, highlighting facts, the history of chocolate, the history of the holiday, the science of love, and other interesting tidbits.
For those of you in search of a laugh, the Huffington Post has compiled a list of Valentine's Day quotes from several comedians. One of the best comes from Greg Giraldo, who said (during a special on Comedy Central), "Valentine's Day just used to be for your girlfriend or your wife but now everyone's like 'Oh, happy Valentine's Day!' I even got a Valentine's Day card from my grandmother. How ridiculous is that? We stopped having sex years ago!"
On the second page of results, you'll find a lengthy list of Valentine's Day-themed Google Doodles from Mashable. Boston.com's guide to all things romance also appears, along with Hallmark.com and other card-related sites.
But do you know what comes at the very top of Google's Valentine's Day search results? Take a closer look: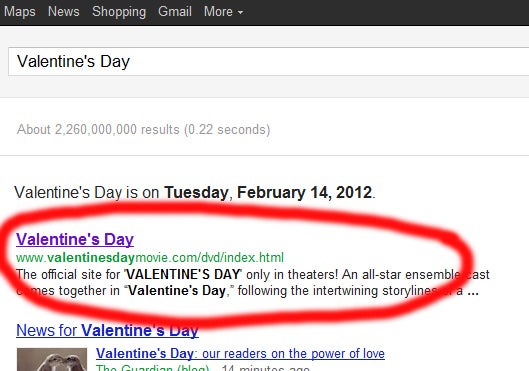 Scary, isn't it? Somehow, on a day when people are supposed to be searching for information on love and romance (or any of the aforementioned Valentine's Day-related topics), a lousy two-year-old movie manages to steal the top spot.
To say that this is baffling would be an understatement. The film was, by all accounts, a box office failure. It made money during the first weekend or two and quickly tanked as consumers realized that it was nothing more than a hodgepodge of big stars.
What's more, if you perform a Google search for "New Year's Eve," you will immediately come to the film of the same name, which just happens to be the unofficial sequel to Valentine's Day.
In fact, Google is inundated with results for the film; the top result will provide you with show times (if the film is still playing in your area), followed by its IMDb listing, a Wikipedia entry for the actual holiday, a Wikipedia entry for the movie, and a YouTube link to the film's trailer.
This is bothersome on so many levels, mostly because it means that people care more about searching for these holiday-themed movies than for the holidays themselves. (Either that or the Hollywood studio behind them found a way to push their films to the top of Google's search results regardless of consumer searching and linking habits.)
Sadly, Yahoo! (NASDAQ: YHOO) and Bing (NASDAQ: MSFT) searchers will also encounter the Valentine's Day and New Year's Eve films.
Follow me @LouisBedigian
Posted-In: Bing Google Valentine's Day Yahoo!Tech Best of Benzinga
View Comments and Join the Discussion!