Review: Transformers Dark of the Moon, Stealth Force Edition (Nintendo 3DS)
When High Moon Studios set out to create the latest Transformers game, they were given the luxury of working with the current crop of game consoles. Xbox 360 may be approaching its sixth birthday (hard to believe, isn't it?), but that doesn't mean it's a dead machine. As far as Microsoft (NASDAQ: MSFT) is concerned, the system is six years young.
Unfortunately, the same cannot be said for the Nintendo 3DS. While Nintendo's latest handheld has only been out for a few months, its hardware has technically been around for several years (3D screen excluded). The graphics processor is nowhere near the power of the consoles, or even the upcoming PlayStation Vita, which looks to be the closest thing we'll get to a portable PS3.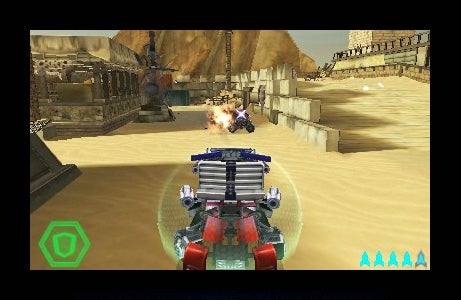 I bring all of this up because, conceptually, Transformers: Dark of the Moon - Stealth Force Edition had it. I mean the game really had it, as in cool cars, impressive villains, and an explosive arsenal pulled right from the big screen. Together, these features nearly make for a tantalizing experience. But they fail because the hardware just isn't up to snuff.
Unlike its console counterpart, the 3DS-exclusive Stealth Force Edition focuses on what the game refers to as "wheel-to-wheel combat." This translates to a Spy Hunter-esque experience, with loads of running and gunning, dodging enemy attacks, and chasing down specific items and/or checkpoints. Within these mechanics are moments of fun, excitement, and Decepticon-sized entertainment.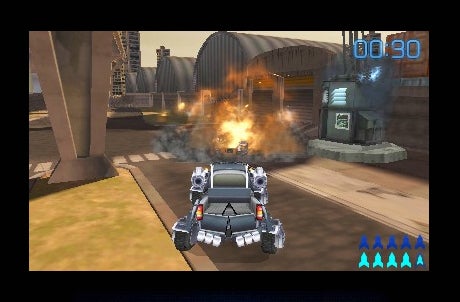 However, these elements are brought down a few notches by what can ultimately be described as dated hardware. We all know how fast Bumblebee is; we've seen him cruise through the Transformers films, several Transformers games, and numerous cartoons. But here, in the "Stealth" Force Edition, it's as if he is always in stealth mode because his speed never seems to fully match his potential. This was no doubt brought on by the 3DS hardware, which can barely push the level of polygons needed to power today's video games. Consequently, we are left with what would have been an A+ handheld Transformers game if Nintendo had developed its machine with more than glasses-free 3D in mind.
In spite of this, Transformers: Dark of the Moon - Stealth Force Edition does live up to the series' handheld standards, particularly in the area of weapon implementation and execution. It also contains enough carnage to keep the younger Transformers fans fixed on Nintendo's latest platform. But going into this game, you need to know that it does not provide an experience anywhere near the quality of the Xbox 360 and PlayStation 3 editions.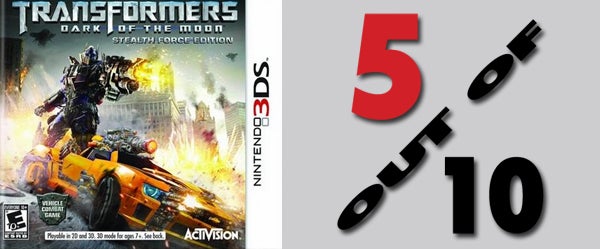 Posted-In: Activision Nintendo PlayStation 3 Spy Hunter Transformers Transformers: Dark of the MoonTech Reviews
View Comments and Join the Discussion!