YCharts Visualizes All The Data A Financial Advisor Needs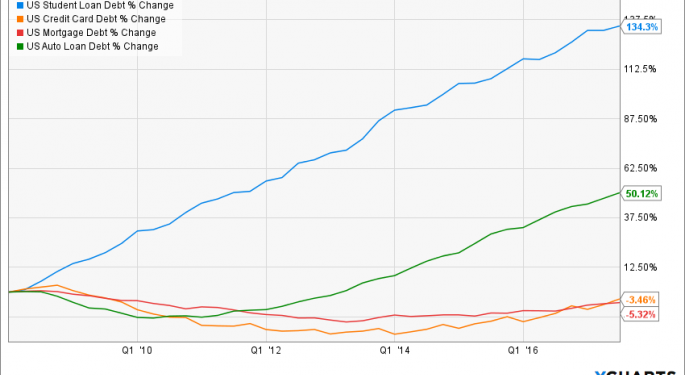 The Benzinga Global Fintech Awards are a yearly showcase of the best and brightest in fintech. In preparation for its biggest installment yet in May 2018, we're profiling the companies competing for the BZ Awards.
Our next feature is on YCharts.
What does your company do? What unique problem does it solve?
Sean Brown, CEO: YCharts enables our customers to make smarter investment decisions.
YCharts is a financial data and investment research platform that provides RIAs, wealth managers and all classes of individual and institutional investors with, comprehensive data, powerful visualization tools and advanced analytics, all supported by an outstanding customer service team.
YCharts helps its customers save roughly 3-4 hours per week and make smarter investing decisions. Industry professionals use YCharts for idea generation, analysis, alerts and updates from real-time news feeds to monitor the markets. YCharts has quickly become the go-to fast, intuitive, mobile, and cost-effective financial research platform on the market that serves as a one-stop shop for North American equity, mutual fund, ETF and market data and analysis.
Who are your customers?
YCharts proudly serves more than 3,000 firms. Much of their customer base is made up of RIAs and wealth managers, but other customer types include hedge funds, mutual fund companies, retail investors, media groups and financial planners. Industry-leading names such as TD Ameritrade, Fidelity, Charles Schwab, The Wall Street Journal, Morgan Stanley and Wells Fargo leverage the YCharts platform.
How long have you been in business?
YCharts was born from the idea that investors needed more affordable and accessible financial data. The company was founded in 2009 to address a gap in the market for non-terminal-based financial research solutions.
Where are you located?
YCharts is headquartered in Chicago and has a satellite office in New York City.
Who is your company's leadership? What kind of experience do they have?
Sean Brown serves as the President and CEO of YCharts since he joined the company in 2016. Sean has a 25-year track record of guiding significant growth of public companies, private equity backed firms and venture-backed startups. His focus has persistently been in the cloud-based software space, where he has guided the growth and eventual exit of several companies. Prior to joining YCharts, he was part of a leadership team that successfully led Interactive Data to an acquisition by Intercontinental Exchange in 2015. Prior to this, he helped lead and grow SaaS software provider Telution to its acquisition by CSG International. His previous experience was in management or technology consulting with Accenture and Computer Science Corp (CSC).
Ara Anjargolian is co-founder and CTO at YCharts. He has been with the company since it was formed in 2009 where he leads product and technology. As a software engineering and product development leader, he manages the YCharts development team. Prior to his role at YCharts, he was the lead developer at ForSaleByOwner.com, which is now a Tribune Interactive company. Ara earned a B.S. in Electrical Engineering and Computer Science from the University of California-Berkeley.
Nick Kocinski joined as the CFO of YCharts in 2012. Prior to joining the company, he served as the Director of Finance and Marketing at HomeFinder.com, the online real estate arm of Classified Ventures. He holds a master's degree from the University of Chicago with a focus in accounting, finance, and entrepreneurship.
Who are your investors, if any?
YCharts largest investors are investment research firm Morningstar, leading midwest angel investing firm Hyde Park Angels and Reed Elsevier, now RELX Group.
Is there anything else Benzinga should know about your company?
YCharts recently surpassed 3,000 customers on the platform demonstrating the company's penetration in the investment research tools space. Additionally, YCharts recently leveraged independent data source Discovery Data to view AUM growth of firms that are YCharts customers vs those that are not YCharts customers. Their research found that YCharts' customers AUM has grown 75% faster than non-customers over the last 3 years. While YCharts doesn't claim that they are the cause of this growth, it does demonstrate that the fastest growing RIAs find value in and use YCharts.
For a free trial of YCharts, click here.
Photo courtesy YCharts.
View Comments and Join the Discussion!
Posted-In: Benzinga Global Fintech Awards Sean Brown YChartsFinancial Advisors Fintech Personal Finance Best of Benzinga