Creating Curb Appeal When The Weather Turns Crummy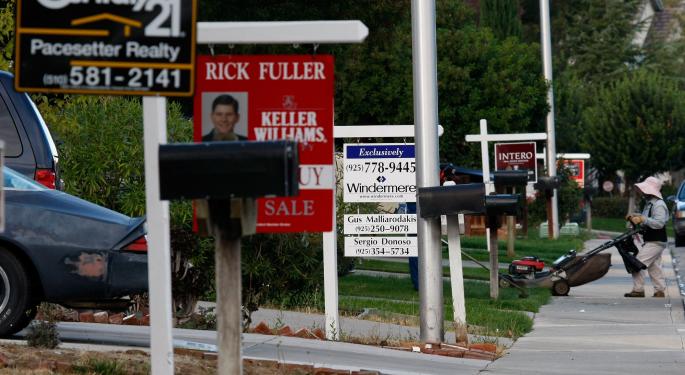 Regardless of when your house goes on the market, selling can be a daunting experience under any circumstances. Throw into the mix the less bountiful fall and winter months and the task may seem insurmountable. There is a plethora of curb appeal advice dedicated to the blossoming sunny seasons, but autumn and winter are not treated with the same vitality.
Fortunately, while a winter sale may seem formidable, it does not need to evoke a surrendering attitude.
Below are five examples of things you can do as the seasons change and colder weather rolls in.
1) Create A Clean Yard
Depending on the typical weather where you live, focus on keeping your lawn as neat as you would in the summer. If you do not get a lot of snow, edge your grass and add mulch or rubber alternatives to give your yard a finished look uncharacteristic of fall and winter. No matter where you live, trim dead ornamental grasses and shrubs, and clear out flower beds of sticks and leaves.
Related Link: 4 NASDAQ Stocks In The Real Estate Development Industry
2) Clear The Way
Clear the driveway, sidewalks, patio, deck and all walkways. If your area is prone to ice and snow, make sure to adequately prepare and purchase salt. Shovel regularly. If a white winter is not in your forecast, make sure your paths are still cleared of all debris, dead leaves or twigs. Consider power washing your concrete before the temperature dips below freezing.
3) Make Your Front Door Welcoming
If your home is a neutral hue, consider painting your door to add a visual contrast and interest. Hang a wreath on the door. Symmetrically frame the entry with evergreen planters. Just as eyes are said to be windows to the soul, front doors are the windows into your home's soul.
4) Light It Up
Not just a late winter holiday staple, outdoor lights can bring a cozy warmth to your home's appearance. Trees, fountains, paths and patios benefit from this extra attention. Consider adding rope lights, lanterns or luminaries along your driveway and walkway up to your front door. LED spotlights on trees or windows can add a majestic quality to otherwise lackluster features. Rope lights can also make a powerful impact when added below handrails and railings.
5) Tasteful Ambiance
Embrace the diversity that the changing seasons bring. Take a minimalist approach to holiday decorating -– no inflatable 10-foot tall Santa; no Griswold-inspired light fixtures synchronized to music; no swarms of vintage plastic reindeer. Concentrate on exuding the warmth and cheer of the holiday season without potentially offending buyers. Simple holiday wreaths over the garage or on the front door can add that seasonal sparkle without overpowering the rest of your home's uniform appearance. Red bows can have a similar effect. LED candles placed in front windows can add a sophisticated feel.
Related Link: Farmers' Almanac Warns Of Cold Winter: 5 Tips To Lower Utility Bills
Bonus: 19 Other Tips
Plant hardy grasses and cabbage varieties in large flower pots. Fountain grass and most cabbage survive harsh winters, and add natural splashes of green and purple.
Clean the windows. Especially for lower-level windows, window cleaner, a soft rag and a few minutes can make a huge difference.
Add outdoor carpets or rugs to your deck or patio.
Replace rotted wood.
Hang up wind chimes. Fall and winter often seem dead and silent; break the silence with nature's breezy wind symphony.
Hedge your walkway or around your mailbox with winter bloomers such as Camellia, Winter Hazel and Blue Holly. Calendula, pansies and dianthus can survive milder winters and add more contrast.
Attract winter birds by hanging bird feeders, filling empty summer bird baths with seed or even designating a tree for edible decorations.
Replace unsightly grill covers with higher-quality, water-resistant, neutral colored ones.
Add weather-resistant throw pillows to outdoor furniture. Match them to your interior color décor to create a seamless transition from outside to indoors.
Install new house numbers on the front door, over the garage, near the mail box.
Get out the power washer late in the season and give your siding and concrete a pristine look. Check the weather before doing this though and avoid doing this chore the day of a possible freeze.
Knock down unsightly icicles. Nothing destroys a tidy look like muddy, murky ice hanging over the eves.
Edge your driveway. Simple pavers or a path of lights can elevate your driveway from drab to elegant.
Upgrade your garage doors. Consider a fresh coat of paint or adding windows to brighten up the second entrance into your home. Hardware can be added at a fraction of the cost to replace the whole setup.
Install porch and deck handrails and railings.
Add a doorknocker and replace unsightly door bells to match.
Add a welcome mat. Make sure it is mildew-free.
Replace shabby mailboxes.
Camouflage electric boxes by painting them the same color as the siding.
View Comments and Join the Discussion!
Posted-In: curb appeal DIY Real EstatePersonal Finance Best of Benzinga