Big Expenses = Big Points Of Contention: Why Spending Thresholds Work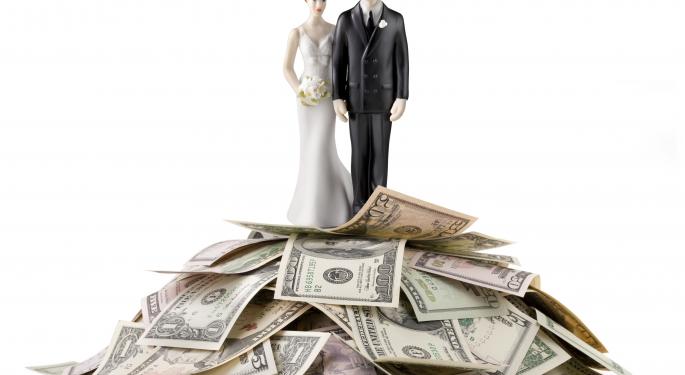 Within a shared-financial household, money can spark problems. Given that one person might make more money, one might handle paying the bills, one might be thrifty and the other spendthrift, who should have what power over the purse?
The experts below agree power should be shared, and that the key is communication.
Misunderstandings And Spending Habits
Aleksandra Todorova, in a KeyBank article, outlines how common spending habits can cause trouble. The regular bill payer in the couple may appear to rack up little expenses with a cumulatively big punch, while the other makes less frequent but much bigger purchases. The different styles can lead to a lot of misplaced blame.
Todorva says the answer is to "Keep spending in check," and communicate effectively. "The wrong approach: I'm a saver and you're a spender… The right approach: we both spend, but on different things."
Related Link: When To Talk To Your Kids About Finances
While there are countless issues that cause fiscal fights, misunderstandings about spending habits hit hard. One approach to preemptively stopping these types of arguments and avoiding financial infidelity is to establish a spending threshold.
Laura Shin describes spending thresholds and their benefits in Forbes by saying that "[a]n easy way to head off fights about money is to agree to discuss any purchases above a set amount."
Spending Thresholds: Why They Work
1.) Eliminate The Element of Surprise
Carl Richards states in The New York Times that the source of arguments about spending is often linked to the surprise factor, not the actual purchase. Establishing a set amount of money above which purchases are discussed as a couple can decrease the shock value.
"Depending on your budget, it may be as little as $50 or as much as $500," Richards explains. "The point is that you discuss it with your partner."
2.) Establish Trust
By giving each other a degree of financial freedom and independence, a spending threshold is a concrete way to let each party in the financial household know that they have the other's trust. As Ross Kenneth Urken explained in DailyFinance, "[w]hen two people agree to link their lives together, they take vows of trust and partnership." That trust can be undermined if one person refuses to be open about their finances and share control.
Urken continues: "To leave someone a chunk of their financial independence can reflect a greater level of trust." However you decide to set up your spending threshold, by allowing each other a degree of financial discretion illustrates the trust involved in sharing the financial burden as a couple.
3.) Avoid Power Dynamics
Dr. Gregory Kuhlman, a psychologist and couples' counseling coordinator, explains in The New York Times how different incomes can lead to financial fights. He provocatively asks, "If one person is making most or all of the money, does that person get to make most or all of the financial decisions?" In a financially transparent and balanced relationship, the answer is no.
Spending thresholds have the benefit of giving each person accountability without allocating the partner with a lower salary to an allowance system. Both partners maintain the same threshold, regardless of their "contribution."
In shared financial relationships, it is important to recognize that contributing to the relationship cannot always be quantified through the salaries brought home. Consider setting up your own spending threshold to deter financial fights and avoid financial infidelity. This simple step, involving open and frequent communication, can help you maintain financial transparency as a couple.
Posted-In: maritial assets personal finance spending habitsPersonal Finance Best of Benzinga
View Comments and Join the Discussion!