Millennial and Self-Employed? 8 Tips On Landing a Mortgage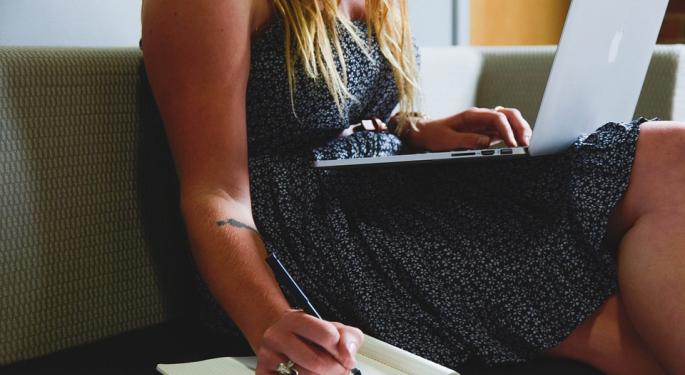 If you're a self-employed millennial, you have plenty of company.
Millennials make up 45 percent of all U.S. freelance workers, according to a 2016 survey by Edelman Intelligence that was commissioned by Upwork and the Freelancers Union. That's more than 24 million millennials for whom, "freelancing is the new normal," the Freelancers Union has said.
But while freelancing and other forms of self-employment has plenty of advantages, including flexibility, it also has some downsides. If you want to buy a home, for example, you may have a harder time qualifying for a mortgage.
That doesn't remove you from the game, but it may take some extra work to close on a home. Here's what experts advise paying attention to:
#1 Don't mix your business and personal accounts
Mingling personal and business accounts makes it hard to document your business income during the mortgage process. "Ideally, you should have a separate bank account and separate credit card for your business," says Oakland, California, tax preparer Eric Rheinheimer. "This way you can easily track down your business income and business expenses simply by looking at the proper account." Also, it is useful to create a paper trail with the source of any large cash deposits so they can be easily counted as income.
#2 Improve your credit score before applying for a loan (if necessary)
Lenders don't automatically require a higher credit score if you're self-employed, but they may raise the bar if they see other risks. If you need to boost your credit score, pay down your debts before applying.
#3 Lower credit score = higher down payment
According to the most recent mortgage data from Ellie Mae, the average (FICO) credit score for successful home loan applicants is 726. You can get a mortgage with a lower credit score but, with many types of mortgage, a lower FICO often means a higher down payment.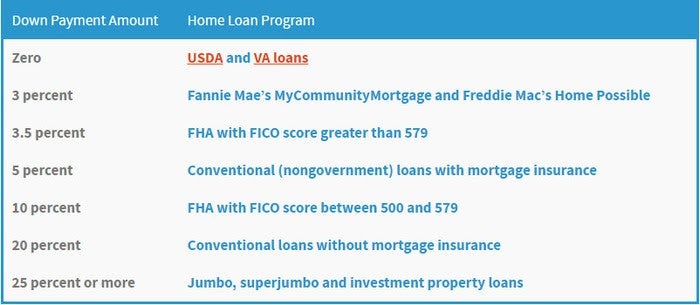 Source: MoneyGeek.com
Tip: Self-employed vets and rural dwellers take note: Home loans backed by the U.S. Department of Veterans Affairs (VA loans) and the U.S. Department of Agriculture (USDA loans) guarantee zero-down mortgages.
# 4 Be prepared to show documents
It seems unfair, but while 9-to-5 employees can prove income with just a couple of pay-stubs, you'll have to bring in a bulging file: your last two years of personal or Schedule C business taxes, a year-to-date profit and loss statement, copies of your business license and registration, and more.
# 5 Don't get hit twice in your debt-to-income ratio
Lenders use what they call your debt-to-income ratio (DTI) to figure out your ability to repay debts. "The DTI ratio is somewhat of a moving target," says Dan Williams, a loan officer at C2 Financial Corp in San Diego. He says that while VA and Federal Housing Administration loans can have a DTI around 55 percent, it's usually below 45 percent for conventional loans.
Lenders calculate one type of DTI ratio (called a "back-end" DTI ratio) by taking your projected mortgage payment, plus all your other monthly debt, and dividing it by your monthly gross income. (You can use a DTI calculator to figure out yours.) The catch is that some self-employed applicants use personal credit cards to buy business items. Those debts are logged as business expenses, but underwriters may count them again if they show up as credit card debt in your personal credit report—another good reason not to commingle business and personal accounts.
# 6 Wanted: A stable, upwardly mobile income
For freelancers and business owners, lenders want to see stable, regular income. "There needs to be a solid history of income and preferably an upward trend in earnings," says Williams.
The longer your history as a business owner, the better. Most loan programs want two years of tax returns, says Jay Jaffee, branch manager at Doorway Mortgage in Lake Oswego, Oregon. However, two years may not be required if you can demonstrate your previous income came from employment in the same field, Jaffee adds. However, he also cautioned that, "usually anything less than one year will not be considered."
# 7 "Extraordinary" income doesn't count
This comes as an unpleasant surprise to many of the newly self-employed: Since lenders want to make sure you have consistent, reliable cash flow to repay their loan, they may exclude some of your biggest wins.
For example, if you signed your first book deal last year and got a one-time payment of $60,000 from the publisher, the lender may not count that money as part of your usable income. Why? It was a one-off event and can't be relied on as a source of income in the future. And remember: "under-the-table" payments don't count.
# 8 Fewer write-offs mean more qualifying income
One of the advantages of being self-employed is that you can write off certain business expenses to lower your taxable income. However, since mortgage eligibility is based on net income, some business deductions may bite you when you go to apply for a home loan.
For example, if your annual business revenue was $100,000 but you had $30,000 in deductions, your qualifying income could drop to $70,000. (The one exception is business depreciation expenses based on the shrinking value of equipment and buildings over time. The underwriter will often add those expenses back to your income, making it larger.)
If you need more qualifying income, you may want to claim fewer write-offs. Keep this in mind when doing your taxes, since underwriters aren't fond of amended returns—although you can always file one as a last resort.
A final word
If you get turned down for a mortgage, don't give up. Williams suggest finding an experienced loan officer early on in the process. Since each lender has a different set of criteria for applicants, Jaffee advises borrowers to find out why they were turned down and then call other lenders to find out if they have a solution. With persistence and the right loan officer, you can put together a strategy for buying your dream home in the future.
Josh Monen is a millennial freelance writer who spent the first five years of his career with Amica Insurance as a licensed P&C agent and now specializes in consumer finance reporting. He also coaches financial service professionals on how to use technology to build stronger relationships with their clients.
The preceding article is from one of our external contributors. It does not represent the opinion of Benzinga and has not been edited.
Posted-In: contributor moneygeekOpinion Personal Finance Real Estate
View Comments and Join the Discussion!