Is Jack Welch Himself To Blame For GE's Poor Performance Under Immelt?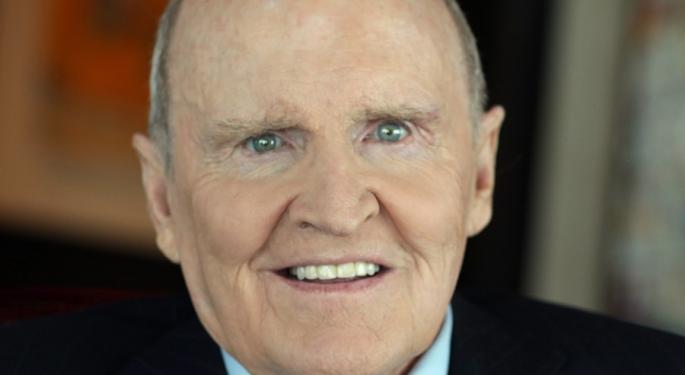 General Electric Company (NYSE: GE)'s stock has lost 30 percent since Jeff Immelt assumed the title of CEO back in 2001. But is he to blame for the stock's poor performance? The New York Times has an interesting take on the topic: Immelt inherited a company from Jack Welch that wasn't built to succeed over time.
Welch, considered by some to be one of the greatest business leaders ever, built GE into a massive conglomerate that sold everything from light bulbs to a TV studio. So long as GE held a market leading status in the respective business then it would succeed. But that was then and this is now, and Welch's GE is now discredited and outdated.
And then there is the fact that Immelt inherited a "highly inflated stock price," Bruce Greenwald, professor of finance at Columbia told the New York Times. While that may not be Immelt's fault the executive was guilty of never understanding how to create value through growth — especially in comparison to Welch's lofty expectations investors had gotten use to for years.
"It's much harder to be a conglomerate today than it was 20 or 30 years ago," Aswath Damodaran, a finance professor at the New York University Stern School of Business, also told the New York Times. "The Welch model is certainly dated. Maybe it's still used in a few old-line manufacturing businesses, but not in the rest of the economy, where a start-up can destroy your business."
It is unlikely that Immelt will be authoring books on the topic of manag(eneral)e(lectric)ment like Welch has. Although to be fair, Immelt had to immediately deal with the fallout of the Sept. 11 terrorist attacks and the financial crisis. But then again, so did every other CEO.
Related Links:
Deutsche Bank Has A Few Questions About G.E.'s Surprise CEO Announcement
A Question General Electric Holders Will Be Asking Today: Who Is John Flannery?
______
Image Credit: By Hamilton83 - Own work, CC BY-SA 3.0, via Wikimedia Commons
View Comments and Join the Discussion!
Posted-In: Aswath Damodaran Bruce Greenwald GE Jack Welch Jeff ImmeltManagement Top Stories Media Best of Benzinga