Panasonic, Major Automakers Evolving With Mobile & Infotainment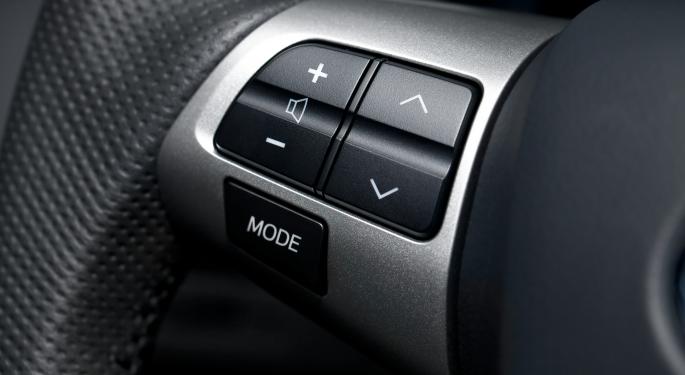 The presence of integrating mobile and entertainment technology within automotive technology was on display in Detroit at the 25th North American International Auto Show.
Panasonic (OTC: PCRFY) had several new concepts on display, including the heads-up-displays (HUDs) which were featured at the 2014 Consumer Electronics Show. The displays would make a car driver look down 15 degrees, according to a company spokesman, making note that such a low degree would lessen the distraction of a driver.
The addition of Panasonic's personalized internet radio platform was also featured. Aupoe is available in 43 countries and installed in 50 millions devices, according to David Taylor, director of connected services for Panasonic. The platform allows for personal and cloud music, depending on the consumer.
The platform also features weather, traffic and sports updates from the cloud, localized to the consumer. Over time, the service will adapt to a user's habits -- i.e., playing news updates at a certain hour that a user has always turned to news on the radio platform. Any connection, phone or otherwise, can be picked up.
"We're not trying to go head to head with Apple, we're not trying to compete with Spotify. We're about in the car ," Taylor told Benzinga.
BMW, Mercedes, Mini-Cooper, Audi, Toyota and Honda are among the company's clients. Regarding domestic automakers, Taylor said to watch out for some announcements coming in February.
Related: Detroit Auto Show Unveilings Underscore Auto-Makers' Retooling Efforts
Progressive integration
The Auto Show also featured a couple of new or improved advances for Chrysler and Toyota, among others.
The 2015 Chrysler 200 Sedan will feature one of the largest touchscreen in its class, an 8.4-inch Uconnect Voice Command. The console also enables on-demand Wi-Fi hot spot capability. This Uconnect Access will now include, Pandora, which was originally introduced at CES.
Toyota introduced the FT-1 sports car, a concept car that is a potential successor to the Supra. Kevin Hunter, president of Toyota's Calty Design Research studio, described it as "truly exciting, high-performance, sexy halo sports car."
Alex Chen, Calty's chief designer, said function sculpting was key to optimizing the vehicle's aerodynamics. The steering wheel features grips and buttons, allowing the driver to act almost as if they are playing a video game.
Chen said Calty collaborated with the Grand Turismo video game company to develop a virtual FT-1, which was used as a tool to pitch to executives at Toyota. The company's president, Akio Toyoda, finished a virtual lap on Japan's Fuji Speedway faster than his own real lap time. The concept has been made into a demo vehicle in Gran Turismo 6, beginning on January 14.
The Gran Turismo series is made exclusively for Sony's PlayStation.
The move would appear to be an effort to further the concept's marketing and potential popularity, something Ford did in a similar move in 2013.
"It's an aspirational car," said Eric Ibara, director of residual consulting for Kelly Blue Book, following the announcement.
Posted-In: Alex Chen Calty Chrysler Detroit Eric IbaraEvents Tech General Best of Benzinga
View Comments and Join the Discussion!