Old Dominion Makes Its Favored LTL Benchmark Clear: Revenue Per Shipment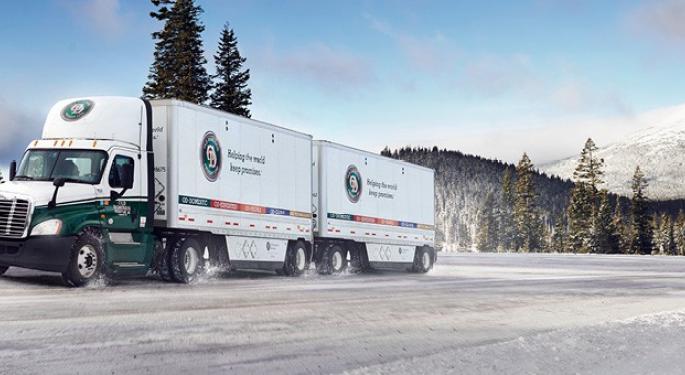 With numerous metrics to determine how a less-than-truckload (LTL) company is doing, the CFO at Old Dominion Freight Line, Inc. (NYSE: ODFL) talked this week about the measurement that his company likes to look at: revenue per shipment.
In a conference call with earnings analysts following the release of the company's strong second-quarter earnings report, ODFL CFO Adam Satterfield said that metric is one that the company favors as a barometer of the strength of the business. 
"We believe revenue per shipment is a better measurement, as we focus internally on maintaining a positive spread between our revenue and cost per shipment," Satterfield said.
Focusing on that spread is vital, Satterfield said. "Managing those two factors [revenue and cost per shipment] has really been a key contributor to our long-term ratio improvement," he said. 
Old Dominion's operating ratio was 10 basis points improved in the quarter. It's a small amount, but it stands in sharp contrast to XPO, where the OR in its LTL division shot up about 10 percentage points, depending on the measuring stick. 
While some of ODFL's metrics were down in the challenging second quarter, revenue per shipment was up. Old Dominion's revenue per shipment excluding fuel was $321.47, up from $306.37, a gain of 4.9%. Satterfield said that rate of increase was "relatively consistent with the change in the first quarter of 2020, as well as our long-term trends." 
The gain in revenue per shipment stood in contrast to some other key LTL metrics that declined (yet the company's OR improved regardless). 
Old Dominion's revenue per hundredweight, another key metric, was down to $21.85 from $22.72.
But Satterfield noted that revenue per hundredweight has some flaws. According to a transcript of the earnings call supplied by SeekingAlpha, Satterfield said that metric is subject to "multiple factors" that can have a "significant impact" on its calculation. He specified average length of haul and weight per shipment as two of those factors. 
The relationship between changes in revenue per hundredweight and changes in Old Dominion's mix of freight are not "linear," Satterfield said. "As a result, revenue per hundredweight is a tough measure to evaluate, when the mix of our business changes so significantly like it did during the second quarter," he said.
Weight per shipment was volatile during the second quarter for Old Dominion, one of the reasons why Satterfield suggested revenue per hundredweight was a less-than-stellar barometer. 
Satterfield said Old Dominion's weight per shipment was about 1,600 pounds in January and February and then climbed to 1,677 pounds in April. It worked its way back toward 1,600 pounds in June. 
Weight per shipment, depending on the mix, is a double-edged sword for LTL carriers. Depending on what is driving the gains, higher is not necessarily better. 
Satterfield said one of the reasons it reached the 1,670-pound level is that in the early days of the pandemic, national accounts continued to be consistent users of Old Dominion's services but some smaller accounts did not. Some of those smaller accounts are returning to the fold, Satterfield said, bringing the number back to 1,600. 
That bigger is not always better was evident in this answer from Satterfield to an analyst's question: "We're happy to see it kind of coming back to the 1,600-pound range. If we can see that stay around that sort of level for the time being, that would be a good trend and contributor too to the overall revenue per shipment that we're seeing."
Price negotiations are more positive than revenue per hundredweight indicates
Satterfield, noting that drop in revenue per hundredweight, said that could be construed as a sign of a weakening market. But the CFO said that is not the case. "While the change in revenue per hundredweight might suggest otherwise, we continue to negotiate rate increases during the second quarter and believe underlying pricing trends remained relatively consistent," he said.  
Satterfield, in response to an analyst's question, said Old Dominion did lose some business earlier in the year as it stuck to the line on pricing. "In the early part of this quarter, that may have impacted some of our volumes as well," he said. "But … we are starting to see some volumes coming back to us. That's been an encouraging trend."
CEO Greg Gantt echoed Satterfield, noting the return of some lost business. "We did see customers more likely to put out bids and rebid the freight, and that was definitely a challenge for us," Gantt said. But he added that Old Dominion did gain some business from competitors, "and fortunately, we are gaining back some revenue that we lost earlier, because they couldn't meet the service standards they had with us."
On a separate issue, Gantt said Old Dominion has "somewhat of an appetite for an acquisition. I just don't know who that is or exactly what that is." He added that ODFL is "not looking at anything currently."
More articles by John Kingston
Ryder sees weak market for used vehicles lingering, and it has a glut of them
U.S. Xpress has strong second quarter
View Comments and Join the Discussion!
Posted-In: Adam Satterfield FreightEarnings News Guidance