3 ETFs For Square Earnings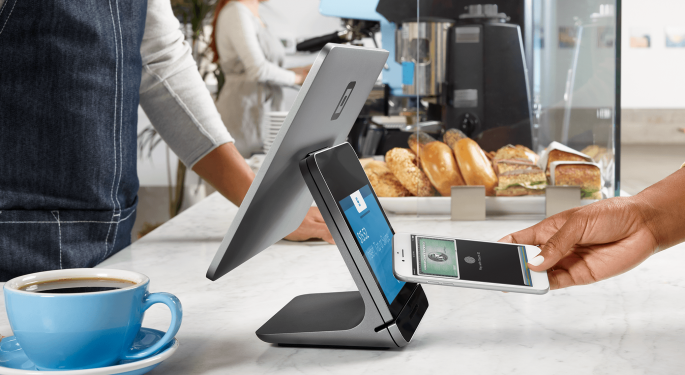 Square (NYSE: SQ) reports first-quarter results after the close and enters Wednesday on a tear. The stock is up 8% over the past week, 52.54% over the past month and has more than doubled off its 52-week low.
For all that impressive work, Square is higher by just 6.6% year-to-date, confirming that the company's previously disclosed downward guidance at the hands of the coronavirus is affecting the stock.
Square is expected to earn 13 cents a share on revenue of $1.30 to $1.34 billion, but that top-line number was previously trimmed from $1.34 billion to $1.36 billion. Gross profit estimates were pared to $515 million to $525 million from $550 million to $560 million.
Still, those numbers are priced in and analysts are mostly enthusiastic about the stock. With that in mind, here are few ETFs with decent Square exposure to consider.
ARK Fintech Innovation ETF (ARKF)
Just over 100 ETFs have some allocation to Square, but none come close to the ARK Fintech Innovation ETF (NYSE: ARKF). Unlike passive fintech ETFs, the ARK fund is actively managed, meaning it's not constrained by index and that means the fund's managers can provide large weights to their best ideas.
That's the case with Square as the stock accounts for almost 11% of ARKF's weight. That's about 300 basis points higher than the the next closes ETF, also an ARK fund – the ARK Next Generation Internet ETF (NYSE: ARKW).
ARK is bullish on the digital wallet theme, something Square has considerable leverage to via Cash App.
"Unsurprisingly, digital wallets are enjoying strong adoption among both consumers and merchants, taking share from other payments methods," notes ARKF's issuer. "According to Bank of America's Small Business Payments Spotlight 2019, digital wallet payments grew 41% at a compound annual rate between 2017 and 2019, while those on credit cards increased 13% and those on debit cards, in cash, and by checks declined."
ARK Innovation ETF (ARKK)
Yes, there's a theme developing here. That being ARK is bullish on Square. Following the aforementioned ARKF and ARKW, the ARK Innovation ETF (NYSE: ARKK) is the next largest ETF holder of Square stock with an allocation also north of 7%.
ARKK is also actively managed and provides exposure to an array of disruptive technologies beyond fintech. In fact, the ETF's calling card isn't its Square exposure, but rather its status as one of the largest ETF owners of Tesla (NASDAQ: TSLA) stock.
Global X FinTech ETF (FINX)
The Global X FinTech ETF (NASDAQ: FINX) devotes almost 5% of its weight to Square, making the stock the fund's ninth-largest holding. That also makes FINX the passive ETF with the largest weight to Jack Dorsey's company.
FINX components include companies behind "a range of innovations helping to transform established industries like insurance, investing, fundraising, and third-party lending through unique mobile and digital solutions," according to Global X.
Home to $447.45 million in assets under management, FINX is the largest dedicated fintech ETF.
View Comments and Join the Discussion!
Posted-In: Earnings Fintech Long Ideas Sector ETFs Trading Ideas ETFs Best of Benzinga