A Trader Was Aggressively Buying Twitter Shares Thursday Night, Just Hours Ahead Of The Q2 Print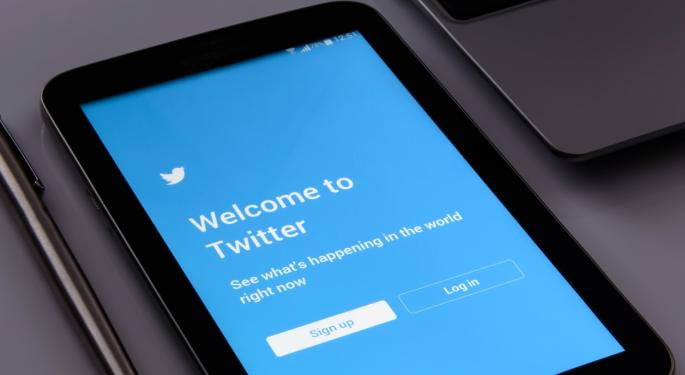 Twitter Inc (NYSE: TWTR) fell 18 percent Friday, after reporting a disappointing quarter that included a drop in monthly active users. But the real action happened on Thursday night, according to PreMarket Prep Co-Host Dennis Dick.
A Very Aggressive Buyer After Hours
Dick, who frequently trades in the extended after-hours session, noticed somebody gobbling up shares of Twitter right before the 8 p.m. ET close, which drove the stock up several dollars ahead of its Friday morning report.
"[Thursday] night after hours there was just a buyer, somebody wanted to buy it basically since 4:00 p.m.," he said.
The bidder got especially aggressive after 7:30 p.m., however. At that point, the stock was trading up about 30 cents on some volume.
"After 7:30 they're like 'I need this stock'" said Dick. "$42.40 was offered, all of a sudden [there's a] $42.50 bid, so it takes out everything from $42.40-$42.50.
"Then it goes $42.60 bid, $42.70 bid, $42.80. And the institution is just sweeping out everything in the middle and just holding that bid. With 15 minutes to go [before the close] it goes all the way up to $44 and lifting like 25,000-30,000 shares. then it goes through $44 up to $44.10."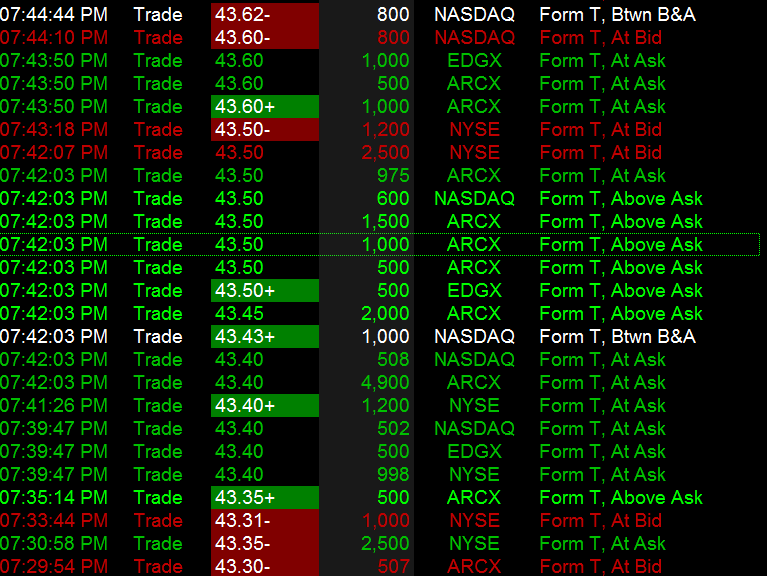 You can see all the bids in TWTR at the same time just before the 8 p.m. close on Thursday night.
'Sometimes They Don't Know Anything'
In all, Dick estimates this one trader bought over 57,000 shares in just the final half hour of trading Thursday night. You can tell it was the same trader, he said, because it was the same style of order.
"So somebody had this absolutely wrong. I would say as an easy estimate they bought 100,000 shares up to $44 last night. I think they might have bought a couple hundred thousand shares. So you could say they possibly threw away over $1 million last night. It was such an aggressive buyer, I was like 'They must know something' because nobody's buying that aggressively into a report. They obviously knew nothing."
For Dick, it was a lesson in trying to interpret trading action.
"It just goes to show you, if you're watching options if you're watching trades, sometimes the people know something, sometimes they don't know anything.
"You can see at 7:52:50, that's 16,000 shares all those trades happened at the same time. Somebody just said "Lift everything at $44.' They just took them all. Whoever that was last night is throwing up or is fired."
You can listen to the full discussion at 2:00 in the clip below, or watch the replay here.
PreMarket Prep is a daily trading show hosted by prop trader Dennis Dick and former floor trader Joel Elconin. You can watch PreMarket Prep live every day from 8-9 a.m. ET here. The replay can be found on Benzinga's YouTube channel, and the podcast is on iTunes, Google Play, Soundcloud, Stitcher and Tunein.
View Comments and Join the Discussion!
Posted-In: Earnings News Education Technicals Top Stories After-Hours Center Trading Ideas General Best of Benzinga