Why Is Advanced Micro Devices Slashing Prices Of Ryzen 7 Chips?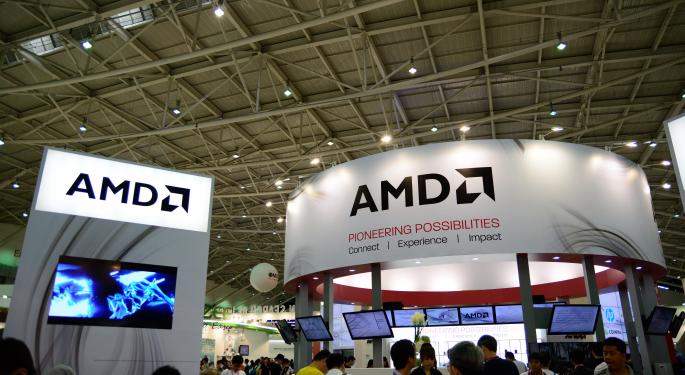 Advanced Micro Devices, Inc. (NASDAQ: AMD)'s high profile Ryzen 7 desktop processors launched in early March amid much fanfare and expectations is made cheaper in about three months following its commercial launch.
Ryzen Rising
Ryzen 7 is AMD's 8-core desktop processor, which has a Zen core and comes in three models, namely the flagship 1800X model and the 1700X and 1700 models. The company had then demonstrated the Ryzen 7 1800X's superiority over a similarly configured 8-core, 16-thread core Intel Corporation (NASDAQ: INTC) i7-6900K in Cinebench R15 multi-threaded and Handbrake-based video transcoding, while also showing comparable 4K gaming performance.
The launch pricing of the Ryzen 7 models:
1800X: $499.
1700X: $399.
1700: $329.
After First 'Ryzen Quarter' Results, Stock Tumbled
Following the release of its first-quarter results, which revealed largely in-line results and positive second-quarter guidance, the stock plunged 24.2 percent to $10.32 on May 2. This is despite the hype-surrounding the first Ryzen quarter. Analysts attributed the weakness to profit taking after the strong run up seen since early 2016. In 2016 alone, the stock gained 295.1 percent.
Subsequently, in April, AMD launched its Ryzen 5 processors, with experts claiming the 6-core, 12-thread Ryzen 5 1600X gaming processor would give Intel's K-series Corr i5 chip a run for its money.
Upcoming Launches Abound
With several upcoming catalysts, namely the impending launch of Ryzen 3 series meant for Mainstream consumers, Naples server processor and RX Vega gaming card to be released at the end of July, it looks like the stock would recover from its post-earnings swoon in the near-to-medium term. Vega is AMD's high-end graphics architecture pitted against NVIDIA Corporation (NASDAQ: NVDA)'s GTX 1080.
It is against this backdrop the news concerning AMD slashing prices of its Ryzen 7 series emanated.
The new pricing reads:
1800X: $450.
1700X: $350.
1700: $315.
Why Announce The Price Cut Now?
At its Financial Analyst Day on May 16, AMD announced details of its Ryzen Threadripper CPUs — that it would have 16 core, 32 threads, built on an "all new HEDT platform." The company also indicated that it would be launched in the summer. The Ryzen Threadripper is seen as a competing product to Intel's Core i9 line up, which would cost $2,000 for the 18-core model and $1,700 for a 16-core mode, according to Digital Trends.
Given the Ryzen Threadripper has double the count of the Ryzen 7 chips and AMD's focus on performance-price ratio, Digital Trends estimates that the Threadripper could be priced at $900.
It is not uncommon for companies to slash prices when a new series of the product is to be launched. However, Digital Trends does not see this as the case.
AMD's wont of offering an appealing performance-price ration could have driven the decision to cut prices ahead of the Threadripper launch. There is also a view that the price cut is the company's attempt to find out how consumers react to various price points.
With a lot going on with the company, it remains to be seen if AMD regains its lost glory and emerge as the frontrunner in the chip market.
Related Links:
Analyst On Advanced Micro Devices: 'Margins Not Ryzen'
Goldman Analyst Was Spot On With His Bearish Advanced Micro Devices Thesis, Sees Further Downside
________
Image Credit: By Quintin Lin - https://www.flickr.com/photos/quintinmarkkimo/8982670983, CC BY-SA 2.0, via Wikimedia Commons
Posted-In: digital trends RyzenEarnings News Guidance Analyst Ratings Tech Media Best of Benzinga
View Comments and Join the Discussion!