Groupon Q4 Earnings Conference Call: A Chronological Recap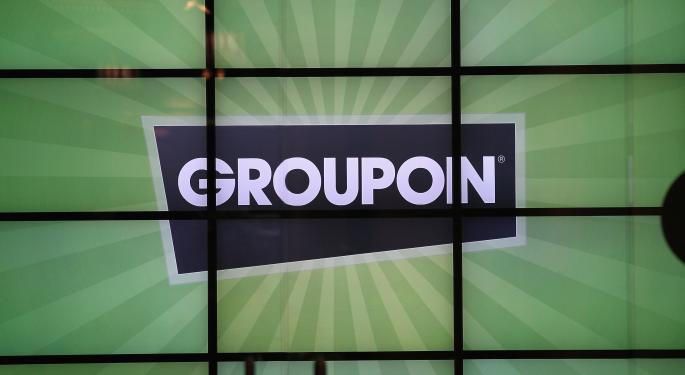 Groupon reported earnings this Thursday afternoon. Below is a live blog of the highlights, delayed by 10 minutes.
Refresh this page and check for the latest updates by clicking here.
Groupon Inc (NASDAQ: GRPN) Latest Updates:
05:56:25pm: Groupon's Q&A session and Q4 conference call ends.
05:54:52pm: 80% of merchants are opting to be perpetually on Groupon and control their inventory and discounts, one of the reasons our merchant numbers have gone from 1000 to 135,000 in North America and 375,000 globally.
05:45:08pm: Shares of Groupon down ~1.34% after hours
05:43:38pm: We expect margins to be relatively stable for the foreseeable future.
05:43:01pm: On coupons: we're pleased with progress of coupon initiatives, a business that produces a higher margin that yields revenue in the form of commissions.
05:41:27pm: On free cash flow expectations: Going forward, Q1 will likely be negative (like last year), the best number to focus on will be TTM that will neutralize some of the year's trends.
05:37:32pm: We're focused on unlocking shareholder value in emerging markets and Asia
05:37:05pm: Product gross margins are stable; there is always a little bit of holiday promotional pricing action that will affect margins but we stayed right on target with our expectations.
05:33:33pm: Guidance is right in line with what we proposed last November. EBITDA will follow similar trends as last year and will be more weighed to the back end of the year.
05:32:58pm: We're still on track for what we discussed at analyst day for our three year goal to get to the mid-teens gross margin range.
05:31:15pm: We believe that Korea is an essential market for us and we believe in the opportunity. We have been exploring financing options. Things are underway and we feel very good about the process [of expansion in Korea].
05:29:01pm: Groupon Q&A session begins
05:25:59pm: CFO Child: For Q1, we expect revenue of $790-840M, growth of 4-11%
05:24:47pm: CFO Child: Purpose of the shelf filing was to give us more flexibility in share repurchases should we need funds for future M&A investments.
05:21:48pm: CFO Child: North America local take rates dipped in Q4 due to holiday season
05:21:24pm: CFO Child: We're on track to reach mid-teens target goal over the next few years
05:18:52pm: CFO Child: As of December 31, we had $1.1B in cash and cash equivalents
05:18:00pm: CFO Child: Q4 included $11.4M of pre-tax non-operating foreign currency losses and a $16.7M decrease to income tax expense from a reduction in liabilities for uncertain tax positions.
05:17:14pm: CFO Child: Gross profit was $393.5 million in the fourth quarter 2014, compared with $378.2 million in the fourth quarter 2013
05:16:45pm: CFO Child: Q4 revenue of $925.4 million, $3.2 billion for the full year
05:14:42pm: CEO Lefkofsky: In 2015 you will see us double down on more inventory
05:11:55pm: CEO Lefkofsky: We need to make the experience of using a Groupon easier than not using one.
05:09:36pm: CEO Lefkofsky: North American active deals increased to over 135,000, up from 80,000 a year ago.
05:08:52pm: CEO Lefkofsky: In Q4, Groupon repurchased 1,152,100 shares of Class A common stock at avg. price of $7.04/share or $8.1M.
05:06:56pm: CEO Lefkofsky: North America, billings grew the fasted to over $929M. Revenue increased 24% and consumers are reacted positively to changes.
05:05:30pm: CEO Lefkofsky: The euro negatively impacted the quarter
05:05:04pm: CEO Lefkofsky: Q4 was recording breaking across all fronts
05:01:28pm: Groupon conference call begins
04:33:34pm: Groupon shares are down 2.5 percent after hours.
04:04:41pm: Groupon Sees Q1 Adj. EPS $0.00-$0.02 vs $0.03 Est., Sales $790M-$840M vs $856.1M Est.
04:04:04pm: Groupon Reports Q4 EPS $0.06 Vs Est $0.03, Sales $925.4M Vs Est $908.38M
Related Articles To Groupon's Earnings:
View Comments and Join the Discussion!
Posted-In: eric lefkofsky Jason ChildEarnings News Events After-Hours Center Best of Benzinga