Walgreens To Close Stores After Dip In Second Quarter Profits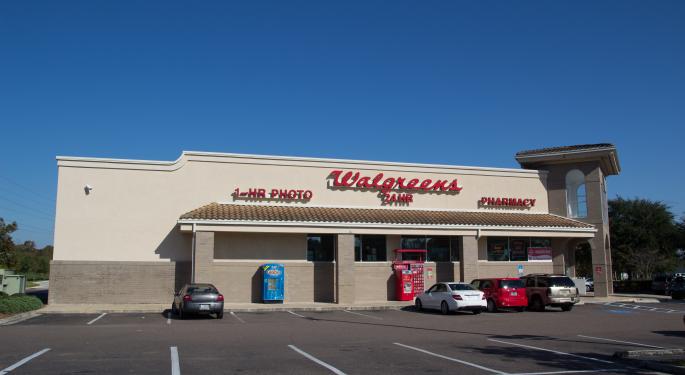 Walgreens (NYSE: WAG), the nation's largest drug store chain, says it will close 76 of its stores during the second half of fiscal 2014 as a cost-cutting measure, following a weaker-than-expected second quarter earnings report.
The company announced its second quarter net earnings at $754 million, or 78 cents per share – compared to $756 million or 79 cents a share in the same time period a year ago. It also reported adjusted second quarter earnings per share of 91 cents, compared to 96 cents a year earlier, reportedly missing investor expectations by one cent.
Second-quarter sales, however, increased 5.1 percent, to a record $19.6 billion, up 4.3 percent.
Related: 11 CEOs Who Also Founded Their Companies
"Our second quarter performance, in spite of expected headwinds from slower generic drug introductions, comparisons with last year's flu season and severe weather, was marked by solid top-line growth driven by record quarterly sales and record second-quarter prescriptions filled," Walgreens President and CEO Greg Wasson said in a press statement."We also continued to gain prescription market share while we maintained a firm hold on our costs."
The store closures, according to the company, are part of a plan to save between $40 million and $50 million starting in fiscal 2015.
Walgreens noted that, despite the scheduled closures, it still expects a net increase in its overall store count of around 55 to 75 in fiscal 2014.
"While we seize the opportunity for store growth as the population ages and consumers look to community pharmacy for their health care needs," Wasson added, "we also continue to focus on optimizing our assets and organization to position Walgreens for our future as a global company."
As of last month, Walgreens had nearly 8,700 locations in all 50 states, as well as Washington, D.C., Puerto Rico, Guam and the U.S. Virgin Islands.
In a Tuesday morning conference call, Wasson also said Walgreens will continue selling tobacco products. Walgreens's main competitor, CVS Caremark (NYSE: CVS) recently announced plans to phase out the sale of tobacco products at its stores by October.
"What we're focused on is to help encourage our customers to make healthy choices, not just with cigarettes, but with their daily habits," The Chicago Tribune reports Wasson telling investors during the call.
"We think we're well-positioned to help folks change their behavior who want to quit," he added, apparently referring to the company's quit-smoking programs and products.
Posted-In: CVS Tobacco drug store chains drug store industryEarnings News Events Media Press Releases Best of Benzinga
View Comments and Join the Discussion!