KeepTruckin Adds Key Leaders, Updates IFTA Reporting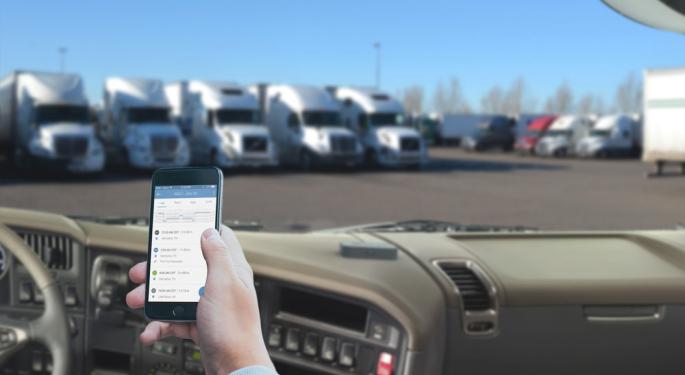 KeepTruckin continues to expand its leadership team as it works to build out new solutions for drivers, taking advantage of the data now available to it.
KeepTruckin just keeps on growin'. The company has announced it has filled four key leadership positions and has added an update to its IFTA reporting function.
Siva Gurumurthy, vp of engineering; Jairam Ranganathanas, vp of product; Maureen Bradford, vp of marketing; and Alice Sansone, vp of people operations and general counsel, have joined the company.
"These leadership hires reflect the scale of our opportunity and the quality of the team we have built," CEO & Co-Founder Shoaib Makani told FreightWaves. "KeepTruckin is now the leading fleet management platform for growing trucking companies. We have brought 250,000-plus trucks online and the data we have unlocked can help our customers run safer, more efficient and more reliable fleets. These leaders recognized the value of this network and what we can build on top. But they also know the importance of culture in building a great company. Our success has been a direct result of the team we have built and the culture we have instilled."
Maintaining that culture will be part of the jobs of Bradford and Sansone. Bradford most recently served as director, Google Cloud, for Google while Sansone joins KeepTruckin from Weebly and also served as general counsel for Amazon Robotics from 2011-2013.
Wrap up the week with JP and Chad. Click here to listen on demand.
"Despite our incredible growth this past year, going from 400 to now 800 employees across six global offices, we have stayed true to our values and created an environment where people feel empowered to do their best work," Makani noted. "Maureen and Alice recognized the culture we have built and are helping us scale it."
Gurumurthy worked as director of engineering at Twitter, leading a 200-plus person team responsible for developing and maintaining the company's consumer-facing products. He also has worked at Yahoo! Labs and IBM Research. Ranganathan joins the company from Uber, where he served as senior director of product, managing core data and AI capabilities. Both men will join the KeepTruckin team as it seeks to develop and grow its product portfolio.
"Our first act was to connect trucks through our hardware and software fleet management platform; the compliance and telematics data we have unlocked is of incredibly valuable," Makani said. "Our next act will be to help drivers and fleet managers leverage that data to run smarter fleets. Machine learning will allow us to deliver insights that are prescriptive and predictive instead of just presenting raw data."
For example, Makani points to intelligent geofencing, automatic video analysis, and driver churn prediction.
The addition of the new leaders represents an expansion of the KeepTruckin team. Co-founder Ryan Johns remains in his role as CTO and Kush Kella will continue as head of product for fleet management.
"These new hires will help us build on top of the great foundation we have developed over the past 5 years," Makani pointed out. "We are going to scale our engineering team to over 200 people over the next year so that we can build the modern technology that trucking companies need to grow their businesses."
Last week, KeepTruckin also announced an update to its IFTA reporting. The key change is that drivers will now be able to upload fuel purchases to the KeepTruckin dashboard at the point of purchase, including bulk imports from major fuel cards.
According to the company, drivers can simply "download a CSV file of fuel purchase history directly from Comdata or EFS and upload that very same file to KeepTruckin via the bulk import option. Your fuel purchase data will automatically appear under IFTA in the dashboard."
Drivers can take a picture of the fuel receipt and input required information to have the data automatically sent to their KeepTruckin dashboard. The information is included and readily available for download for quarterly fuel tax reporting, the company said.
Posted-In: Freight FreightwavesNews Markets General
View Comments and Join the Discussion!