Bond Yields Soar To 7-Year High: What It Means For Investors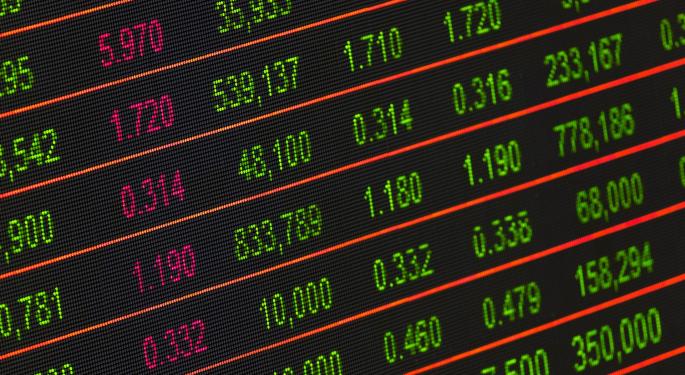 Even as the equity markets are trending close to record highs, the bond market is witnessing an accelerated sell-off.
After closing at the year's high at 3.2 percent Thursday, the yield on the benchmark 10-year U.S. treasury is seeing incremental strength and was at 3.24 percent Friday, the highest since the 3.26 percent reached May 3, 2011.
10-Year Treasury Note Yield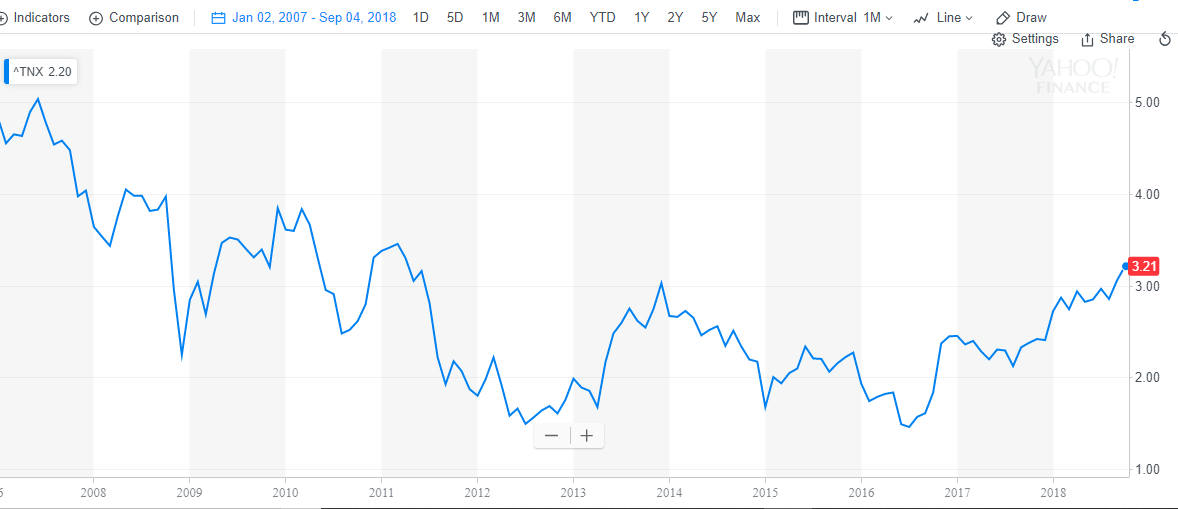 Source: Yahoo
The longer-term 30-year U.S. treasury bond is yielding north of 3.4 percent.
Why Yields Are Soaring
The recent spike in bond yields is primarily due to strong economic signals that confirm ongoing economic momentum.
The U.S. economy expanded at a seasonally adjusted annual rate of 4.2 percent sequentially, according to final GDP estimates for the second quarter. This represents a sharp acceleration from the 2.2-percent clip in the first quarter .
The job market is also robust, with the non-farm payroll report released Friday showing job gains of 134,000 for September, with 121,000 of those in the private sector. The previous two months' numbers were upwardly revised to show an incremental gain of 87,000 more than previously reported.
More importantly, the jobless rate plunged to 3.7 percent, the lowest level since 1969.
A gauge of service sector activity rose to its best ever level, according to a report released Wednesday by the Institute for Supply Management. The ISM's service sector PMI came in at 61.6 in September.
Confidence in the economy is sending investors flocking to riskier assets, reducing the appeal of safe havens such as bonds.
Another explanation on offer is that the rally in yields reflects the lagging impact of a bulking up on corporate debt and treasuries by pension funds to take advantage of a tax rule change that came into effect in mid-September and served to boost bond prices and keep yields in check.
Incidentally, bond prices and yield share an inverse relationship.
See also: What Is A Bond?
Should Investors Care?
Bond yield impacts investors through the implications it has for the economy, monetary policy and the broader financial markets.
Bond Yields And The Equity Market
Since bonds and equities are competing assets, a sell-off in the bond market can result in a flight of capital to the equity market and vice versa. During economic expansion or when the economy is faring well, stocks tend to rise, as they are more leveraged to economic growth. In such a scenario, bond prices fall and bond yields in turn rise.
When yields rise abnormally, it is considered negative for both equities and bonds, as risk appetite and growth expectations are too high to counter the rising bond yields.
A few experts consider the recent move in yields as a win-win situation for both bonds and equities.
"We view this move as a reaction to an economy that is in very good shape; an economy that should be supportive of equities," said John Bredemus, head of capital markets at Allianz Investment Management, according to MarketWatch.
Bond Yields And The Economy
Bonds impact the economy through the variables that determine economic growth. The interest rate-sensitive housing market as well as auto sales are adversely impacted by a climb in bond yields. Mortgage rates that are applicable to home loans are linked to Treasury notes; a higher yield on the notes would translate to higher mortgage rates, which in turn slows down home sales.
Inflationary pressure leads the Fed into tightening short-term rates to slow credit offtake. This leads the rates on longer-dated securities — which are benchmarked on short-term rates — to rise.
The spike in bond yields suggests bond investors are surmising that a neutral fed funds rate may be higher than where it stands now.
For an exodus of investment dollars out of equities and into bonds to occur, bond yields may have to go well past 3.5 percent, according to Bloomberg.
Chris Beauchamp, the chief market analyst at IG, told MarketWatch the recent spike is a blessing in disguise, with the return of volatility setting up nicely for a fall equity rally.
Maybe it's not time to press the panic button just yet.
Related Link: The Sector Rotation Investment Strategy, Explained
View Comments and Join the Discussion!
Posted-In: Bloomberg MarketwatchNews Bonds Economics Markets Media Best of Benzinga