Trump-Kim Summit Preview: 3 Scenarios And Potential Currency Reactions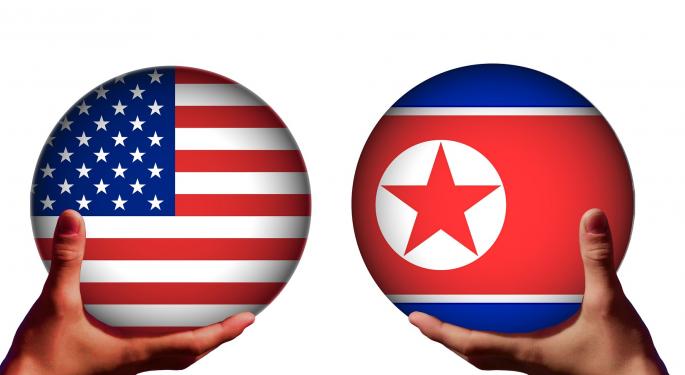 This article originally appeared on FXStreet.
The US President and the North Korean leader are meeting for a historic summit.
Expectations are high but the results may be somewhat underwhelming.
Markets are watching the event closely, and currencies could experience a strong reaction.
US President Donald Trump will meet North Korean Leader Kim Jong-un in Singapore on Tuesday, 1:00 GMT. This is the first meeting of its kind and is the culmination of recent efforts to march toward peace in the Korean peninsula.
Background
Not so long ago, North Korea was experimenting with both nuclear bombs and ballistic missiles. Both leaders had exchanged threats and also insults. Tremendous efforts by South Korean President Moon Jae-in proved fruitful. The North sent a delegation to the Winter Olympics in the South. Eventually, North Korea announced it would be ready to denuclearize but wanted safeguards to its regime.
Meetings between the leaders of both Koreas were successful, and so were meetings between US and North Korean officials. Trump accepted the offer to meet Kim in a move that inspired further hope. The Summit was temporarily called off by the US President after a few inflaming statements but was eventually reinstated.
Ahead of the Summit, Trump expressed optimism and also said he would know "in the first minute" if Kim is serious.
Peace in the Korean peninsula would remove one of the most significant geopolitical risks and would improve the global atmosphere. It would be beneficial for stocks, especially in Asia, and also for risk currencies as the Australian Dollar. The safe-haven Japanese Yen would suffer as demand would fall, similar to the reaction ahead of the G-7 Summit. A failure would weigh on the mood and boost the yen.
Here are three scenarios for the historic meeting:
1) The signing of a roadmap toward denuclearization
Negotiations have been going on behind the scenes to make progress. If the two leaders surprise the world by making a significant declaration. Any deal will take time to implement and will consist of a step-by-step process that may take a few years and will depend on the building of trust. Nevertheless, it would be a considerable achievement.
Markets will likely cheer such an outcome which is not priced in. The Japanese Yen would lose ground and commodity currencies could outperform major ones. The scenario has a medium probability.
2) A successful meeting, with no immediate conclusions
All sides have made considerable efforts to make the conference a success and Trump would like to claim a win. A long hand-shake and a decision to continue negotiations would be positive, but not unexpected for markets. In addition to the top topic of nuclear arms and long-term missiles, the two Koreas have other grievances and the neighboring countries, Japan, China, and Russia, also have interests.
A declaration of success without any immediate decisions is priced in by the markets. Traders will likely be happy with the upbeat statements but will not take further action. Movements in currency markets will depend more on other developments such as the Fed decision. This scenario has a high probability.
3) Total Failure
The two sides may end the talks without a post-meeting press conference, indicating considerable differences. That would be a disappointment. Worse off, Trump threatened to abandon the encounter if he does not get what he wants. An abrupt end to the Summit which has been in the works for months would weigh on markets. Declarations that talks will continue at a low level could sooth the reaction, but further angry tweets from Trump on Air Force One could undoubtedly dampen the mood.
In this scenario, stocks would slide, and the safe-haven Yen would gain ground. Such an outcome is not priced in and has a medium probability.
Posted-In: FXStreetNews Politics Forex Global Markets General Best of Benzinga
View Comments and Join the Discussion!