Trump Likes Chaos, Investors Don't
In a nutshell: news from the White House is a headwind for stocks
Trump wants to appear unpredictable; he relishes chaos/conflict
CBS to air Stormy Daniels interview on March 25th
Trump tweets are market negative, especially tirade tweets
Revolving door at the White House
National Security Advisor McMaster replaced by Bolton (hawkish on North Korea)
Protectionist sentiment creating uncertainty in the market
New chief economic advisor, Larry Kudlow wants a tough stance on China
Large caps have been under-performing for the past week due to the uncertainty surrounding theTrump tariffs and the potential for trade wars. The DJIA (INDEXDJX:DJI) had a negative techical signal after breaking lower out of this triangle formation. DJIA fell -724 pts on Thursday and has its initial target on the breakout at the Feb low which is approximately its 200 day moving average*. The 200 day was hit in the E-Mini S&P futures twice and SPX once during the February crush. The 200dma has yet to be tested in the industrial average. The extension target out of this formation is down at 21600.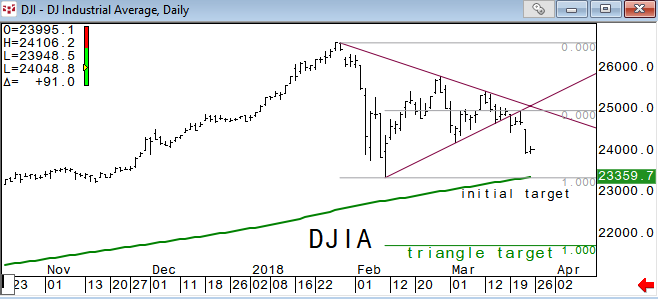 The Dow futures (YMM8:CME) were lower Thursday night, but held a key Fibonacci retracement and potential reversal level. This morning we are seeing buyers enter early on what is likely some unwind after yesterday's big sell-off. The .786 retracement at 23702 in the futures is the first key to potential reversal or continued downside momentum. Those that follow Dow Theory have some room before they get a signal for further damage to the market.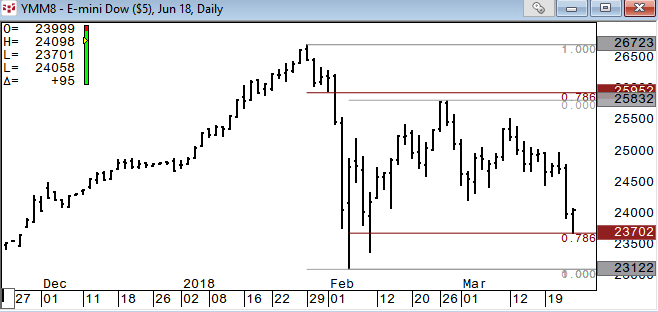 A Dow Theory sell signal would be produced with a settle below the recent lows in DJIA and Transports. The Dow Theory plays out like this: both the Dow Industrial Average and Dow Transportation Average have a significant decline after hitting new highs, the subsequent rally fails to produce new highs and both averages then fall below their recent significant closing lows. See closing levels to watch below. These chart pictures were taken before Friday's open, but it's the settlements that are key.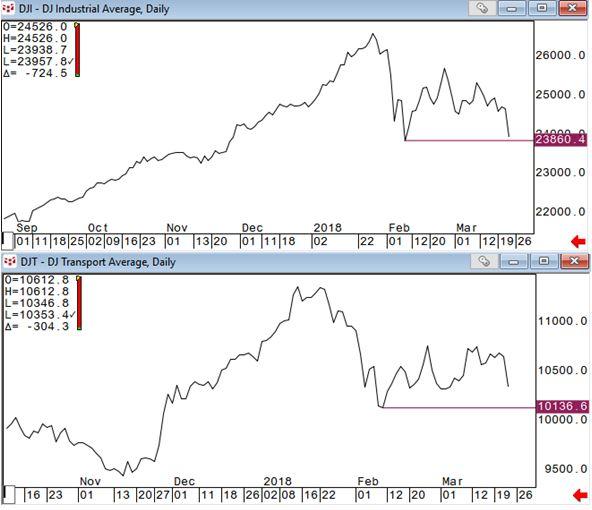 Even with the Fed raising rates (as expected) this week, bonds rallied after the Fed decision. Investors moved into safe haven bonds and out of equities. This chart shows iShares Barclays 20+ Yr Treas.Bond (NASDAQ: TLT) vs SPDR S&P 500 ETF Trust (NYSE: SPY) climbing above the descending trend line that had been key resistance the last few months. This is not what you want to see if you are looking for stocks to regain their strength.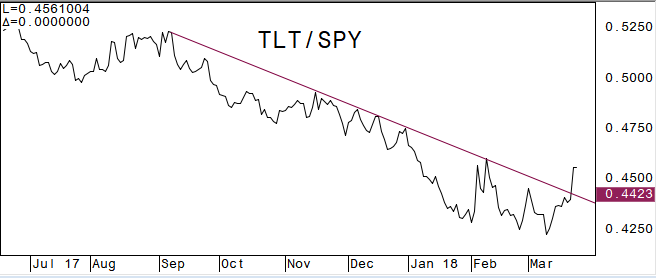 Part of the reason is that there is major resistance in the 30-year yield around 3.25 percent. 30-year yield has held below its 100-month moving average since April of 1985! It also appears that fixed income traders are focusing on a faster pace from the Fed likely to induce a recession in the foreseeable future.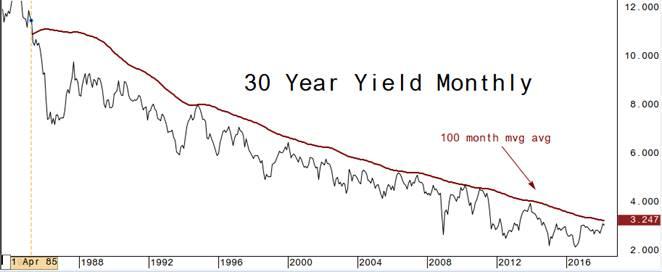 Another reason for the strength in US bond market has been the rally in European fixed income. The German Bund has been firm since the February volatility crisis. This week it climbed back above its 200-day moving average, which has been a very good pivotal point.
Something that may be concerning to the overall market strength is the potential for passive investors to pull out or change strategies. TLT is the most popular bond ETF for investors seeking long term Treasury exposure, SPY is the most popular equity index ETF. Being long both is a simple passive strategy. TLT+SPY broke its 200dma for one day during the vol-crisis in February and is back testing the 200 day on Thursday's close. A clean break and settle below the 200-day would strain the resolve on passive investors and passive strategies.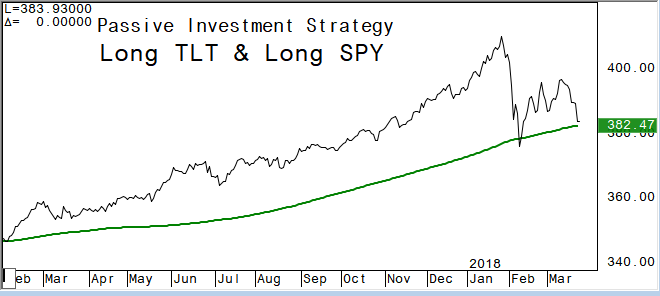 May Crude Oil (CLK8) broke out of a short term triangle formation earlier in the week and crude oil has held a positive tone even with the sell-off in equities. We are using the 200-month moving average around 65.50 as a general area of resistance for now. Saudi Arabia says that OPEC/Russia production curbs could last into 2019 helping crude oil strength. Shale producers increasing their output in the US is a headwind.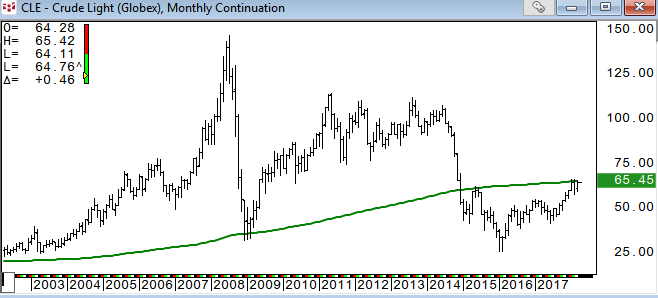 Crude Oil has been the most favorable asset class in our relative value technical analysis models. WTI vs E-Mini S&P held a key trend line support mid-month and is currently testing the year highs in the pair. The underlying crude oil price is helping to lift the energy sector which has been lagging dramatically. This was a crowded trade in January that unwound quickly with the February decline and since it is less crowded now, energy names are seen as a spot for outperformance and rotation. They certainly have some catching up to do and have the most to gain as long as crude oil remains positive.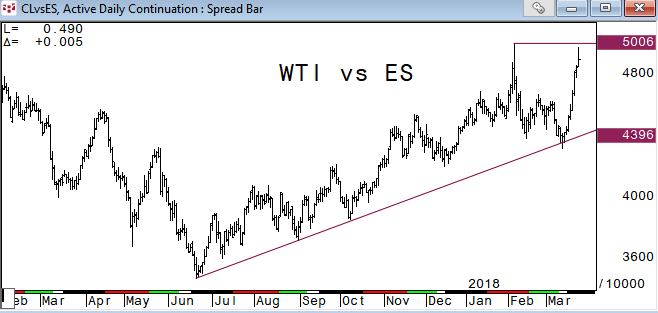 Gold reversed course this week after breaking out above this short term trend line. Much of gold's strength has been due to dollar weakness and uncertainties caused by Trump trade war rhetoric.
The US$ Index has remained negative since breaking 91.000 and the 2017 lows. There is short term support at 89.275 and a break of this level would likely see momentum turn negative. Trump and the White House revolving door is adding to dollar weakness even with a Fed that is raising rates which should be a big positive.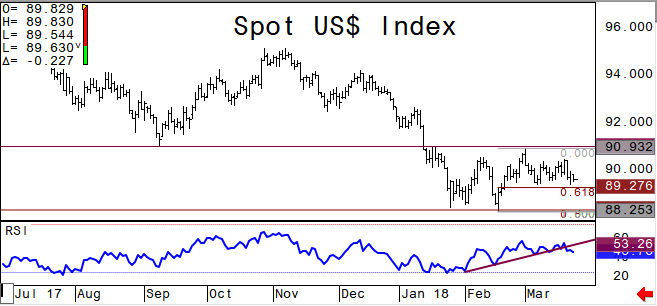 The dollar has been especially weak versus the Japanese Yen. After breaking the weekly trend early in the year we are looking for USDJPY to test the 103 handle before finding any support.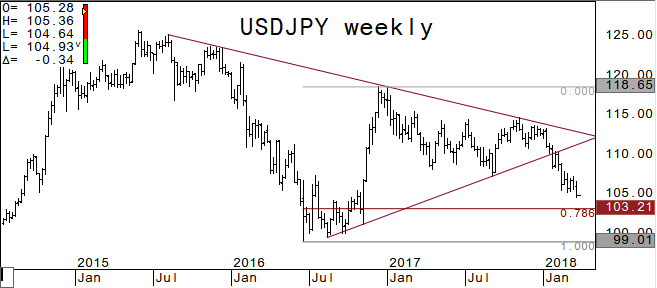 David Wienke is the editor of Keystone Charts. More than 30 years of experience providing technical analysis and execution services to institutional clients is now provided in a daily newsletter, The Daily Game Plan. Coverage includes equities, rates, currencies, and commodities. Dave is also an introducing broker with Capital Trading Group, LLLP (CTG); a Chicago based investment firm specializing in execution and account management for CTAs and individual investors. Charts are created using CQG, a top of the line trading and charting service. For a free trial of the Daily Game Plan newsletter email me at dave@keystonecharts.net or go to Capital Trading Group to subscribe.
For more information go to www.keystonecharts.net
View Comments and Join the Discussion!
Posted-In: keystone chartsNews Technicals Commodities Markets Trading Ideas