How BMW, Volkswagen Are Leading The Charge In 2018's Luxury Auto Industry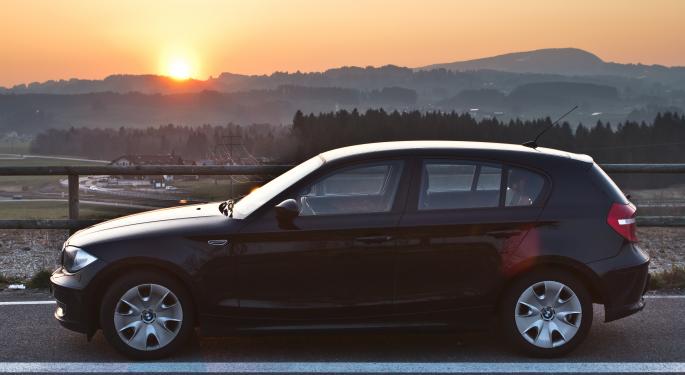 BMW (BMWYY) and Volkswagen (VLKAY) seem to be leading the pack in the luxury auto space.
Take BMW-subsidiary Rolls-Royce Holdings PLC, for instance. The luxury auto giant went from losing money in 2010 to posting $2.4 billion in revenue in 2016. Volkswagen turned heads at last month's Detroit auto show, as they unveiled the Volvo XC90.
Volkswagen stock shows promise since their Bugatti, Porsche and Bentley luxury brands have become the signature names in the industry.
What's more, Chinese car owners account for close to 40 percent of the company's purchases. This is good news for Volkswagen since China's automobile market is slated for a 3 percent growth hike this year.
In the United States, shares in Volkswagen also grew by more than 40 percent last year.
When taking a look at Volkswagen's offerings and innovation, it's clear they're taking huge steps toward making a vehicle purchase an experience for the buyer.
With Volkswagen's Bentley automobiles being crafted with American Red Gum trees, and the manufacturer's 2019 full-court press on creating electric cars, the company is using innovation to stay in demand with today's consumer.
The growth potential makes Volkswagen a green-light investment for the foreseeable future.
In terms of BMW, the company's restructuring of its Rolls-Royce division will make way for huge stock potential. Citigroup and Zack's Investment both upgraded Rolls-Royce stock shares to a buy rating in the past month.
These experts cite the company's industry-leading advancements not only in the luxury automobile market but also in aerospace, marine technology, and energy as reasons the company's stock should increasingly thrive in today's market.
The company's significant market share in the aerospace industry is perfect timing, as the industry is set to be strong for the foreseeable future, due in large part to China entering the fold by planning several high-intensity launches in 2018.
This is similar to how, in the medical industry, Intersect ENT expects significant growth due to its SINUVA implant, being adopted by ear, nose and throat doctors everywhere.
While BMW and Volkswagen are leading the charge, expect Mercedes-Benz to be a player moving forward as well. The auto giant serves 40 international markets, and its recent partnership with Publicis (PUB:FP) shows a willingness to grow its brand.
Last month, Mercedes also issued a plan to spend $11 billion to begin rolling out a line of electric cars that will challenge Tesla's position in the market.
With these pieces in play, it's clear that the luxury auto industry is giving investors a lot to sink their teeth into.
The preceding article is from one of our external contributors. It does not represent the opinion of Benzinga and has not been edited.
Posted-In: contributor contributorsNews
View Comments and Join the Discussion!