The 'Doomsday Clock': What It Is, Why It Just Moved Closer To 'Midnight'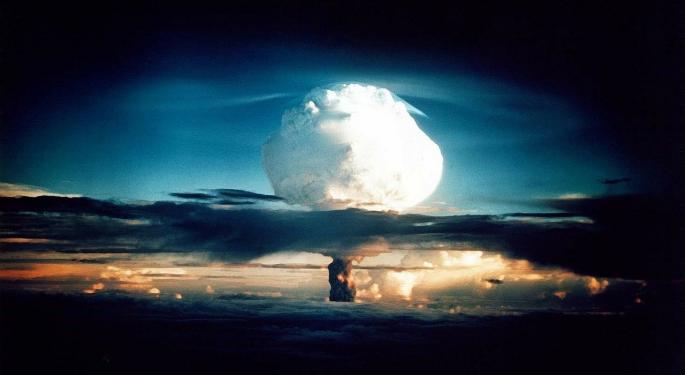 The end of the world is now just 2 minutes away, at least in a relative sense. On Thursday, The Bulletin of the Atomic Scientists moved the hands on their Doomsday Clock forward by 30 seconds to the 58-minute mark, the clock's most precarious positioning in more than 60 years.
The Doomsday Clock represents the danger of global nuclear apocalypse on a one-hour scale from zero to 60 minutes. The Bulletin has been tracking nuclear threat levels since 1947.
The latest uptick in the risk of human extinction comes as a result of a back-step in combating global warming and an ongoing nuclear crisis in North Korea, the Bulletin said.
"In 2017, world leaders failed to respond effectively to the looming threats of nuclear war and climate change, making the world security situation more dangerous than it was a year ago," the organization said.
For the second straight year, the Bulletin has raised the threat level by 30 seconds, calling out President Donald Trump by name in both cases. Last year, the Bulletin specifically mentioned a "rise in strident nationalism" and "disturbing comments" from President-elect Trump regarding nuclear weapons as reasons for the higher threat level.
The last time the Doomsday Clock was at the 58 minute-mark was 1953, just after the Soviet Union successfully tested its first atomic bomb.
But even with catastrophe potentially right around the corner, investors seem content to go out on a high note. Since the beginning of 2017, the SPDR S&P 500 ETF Trust (NYSE: SPY) is up 27.2 percent.
Related Links:
Buddhist Leader Ikeda Urges Human Rights Focus as Key to Resolution of Global Issues and Nuclear Weapons Abolition
Another Fed Shutdown Is More Likely Than Not In February, Says Height Securities
View Comments and Join the Discussion!
Posted-In: Doomsday Clock The Bulletin of Atomic ScientistsNews Politics Top Stories General Best of Benzinga