Dow Jones Newswire Sends False Google-Apple Merger Story; DJ Calls It 'Technical Error'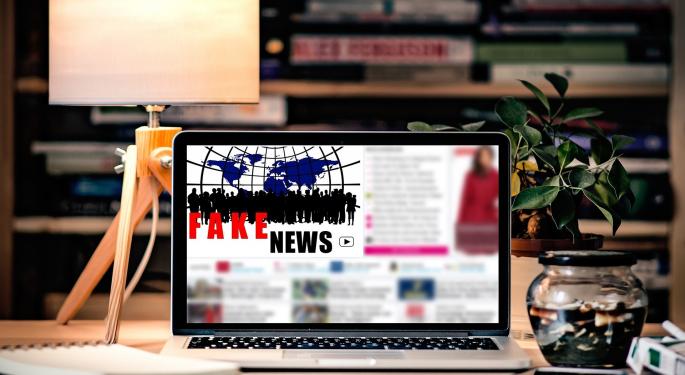 Alphabet Inc (NASDAQ: GOOGL) and Apple Inc. (NASDAQ: AAPL) stock briefly plunged Tuesday morning on false yet ostensibly official reports of a merger.
The Dow Jones newswire circulated the following post:
"In a surprise move to everyone who is alive, Google said it's going to buy Apple for $9 billion. Google Chief Executive Larry Page had secret talks with the now-deceased Steve Jobs in 2010 to firm up the deal. The deal was announced when Jobs's will was read in Cupertino, Calif. The deal, which is expected to close tomorrow, gives each Google shareholder nine shares of Apple stock. Obviously Google will move into Apple's fancy headquarters. Google employees said, 'Yay.'"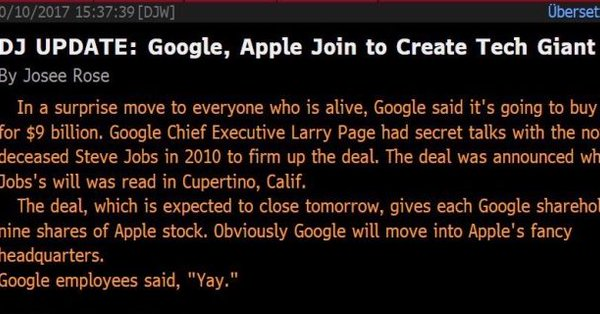 The sarcastic report was published at 9:35 a.m. ET and had not yet been corrected as of 10:40 a.m ET. However, traders seemed to have registered the prank and begun to recover their positions.
Both Apple and Alphabet were rebounding from daily lows by time of publication.
Update (4:26 p.m. ET)
In an emailed statement Tuesday afternoon, Dow Jones said it regrets the erroneous headlines published on its Dow Jones Newswires this morning between 9:34 and 9:36 A.M. ET. The items were never intended for publication and were accidentally published as part of a technology test.
"I take today's inadvertent and erroneous publication of testing materials extremely seriously. While immediate corrective action has been taken, I have also ordered a review of news and technology processes in this area," said William Lewis, CEO of Dow Jones and Publisher of The Wall Street Journal.
See Also: Breaking Down What Lower Corporate Taxes Would Mean For Apple
Posted-In: Dow JonesNews Tech Best of Benzinga
View Comments and Join the Discussion!