Stanley Fischer To Step Down From The Federal Reserve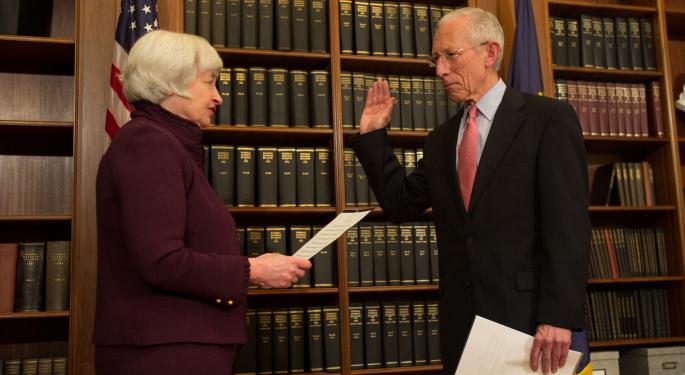 The Federal Reserve will lose an influential centrist with the resignation of Vice Chairman Stanley Fischer, according to a letter sent Wednesday to President Donald Trump.
Fischer will retire from the Board of Governors by Oct. 13 for "personal reasons," leaving his leadership post one year early and cutting his general term with the Fed two years short.
With an academic approach to policymaking, born of professorship at the Massachusetts Institute of Technology and University of Chicago, Fischer had contributed a more moderate perspective on interest rate hikes and voted for the Federal Open Market Committee's monetary policy action.
"If we as a society are to succeed, we need to follow policies that will support and advance productivity growth," he said in July.
See Also: Doves And Hawks Of The Fed
"Fischer is seen as a hawk on monetary policy, relative to the Fed chair, having advocated higher interest rates in response to the strengthening U.S. economy," Financial Times said. "In a recent interview with the Financial Times, Fischer was highly critical of Republican efforts to loosen the post-crisis regulatory regime."
Nominated by President Barack Obama, Fischer worked with Chairman Janet Yellen to lift the U.S. out of the financial crisis and recession through a strategy involving low interest rates and money printing. He helped shape regulatory policy keeping banks in check and accountable, and he stands by the Fed's approach even as Trump considers alternatives.
"The strength of the financial system is absolutely essential to the ability of the economy to continue to grow at a reasonable rate, and taking actions which remove the changes that were made to strengthen the structure of the financial system is very dangerous," Fischer said in April.
His Board leadership was informed by experience as governor of the Bank of Israel, vice chairman of Citigroup, deputy managing director of the International Monetary Fund and chief economist of the World Bank.
Image credit: FederalReserve
View Comments and Join the Discussion!
Posted-In: Fed Federal Reserve Janet Yellen Stanley FischerNews Top Stories Federal Reserve Best of Benzinga