Staples Sold Itself At One Of The Lowest Sales Multiples On Record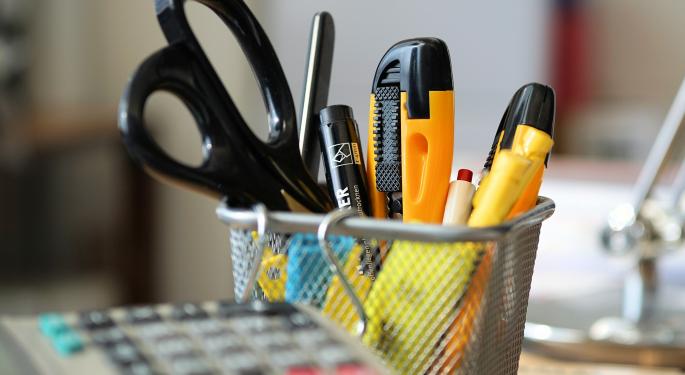 Staples, Inc. (NASDAQ: SPLS) agreed to sell itself to the private equity giant Sycamore Partners for $10.25 per share in a transaction that values the retailer shy of $7 billion.
Staples' stock has been trading in the discount bin relative to the $17 per share it traded at in 2015 before its failed takeover attempt of rival of Office Depot Inc (NASDAQ: ODP). Even the take-out price of $10.25 leaves many investors with a deal that implies a loss, but one does have to question why Staples accepted such a low deal.
Cheapest Deal On Record
Staples agreed to sell itself in a transaction which values itself at just 0.35 times (including net cash) the $18.8 billion in revenue the retailer generated over the past year, Gadfly's Brooke Sutherland noted. By comparison, similar deals in which a retailer is acquiring by a private equity firm commanded a multiple closer to 0.9 times revenue in North America.
Not only was the transaction cheap based on a multiple of revenue but it's one of, if not the, lowest sales multiple on record for any private equity buyout in deals of more than $5 billion, according to data compiled by Bloomberg.
But Wait There Is More
The price Staples agreed to represents a slight discount to what it was willing to pay to acquire Office Depot which is a "smaller, less-successful" rival, Sutherland added.
But there's more. Staples' buyout price on a EV to trailing 12-month sales of 0.3 implies a multiple (as of June 28) that is lower than Bed Bath & Beyond Inc. (NASDAQ: BBBY)'s 0.4 multiple even though the troubled retailer whose stock hit an eight-year low last week.
Bottom line, Sycamore is paying a lower valuation for Staples versus other retailers but it's still acquiring an established company with a clean balance sheet and free cash flow generation.
Related Links:
Leveraged Buyout Of Staples Merits Consideration, But Not A 'Slam Dunk'
View Comments and Join the Discussion!
Posted-In: Brooke Sutherland Gadfly retailers Sycamore PartnersM&A News Media Best of Benzinga