Hasbro Launches A Gaming Subscription Service: How Will It Fare?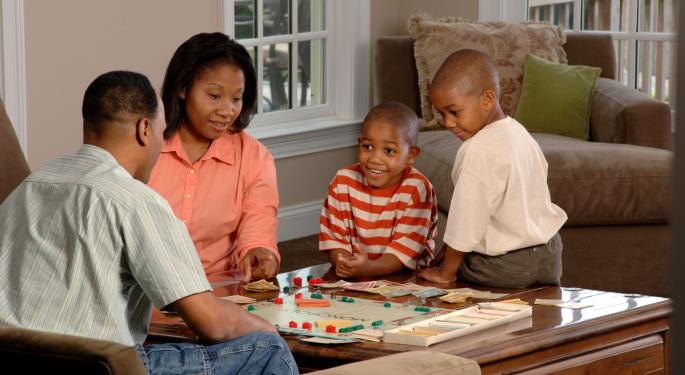 The Hasbro, Inc. (NASDAQ: HAS) Gaming Crate, a gaming subscription service, was unveiled Monday morning. The move puts Hasbro front and center in a very attractive, yet competitive industry.
Hasbro has been one of the most prominent toymakers since 1923, producing some of the most successful board games including Monopoly and Ouija. This has led to them becoming one of the most dominant players in the gaming industry.
Taking A Closer Look At The Hasbro Gaming Crate
The service will deliver an exclusive set of games to your front door every three months. Customers will have the option to choose between two crates, both priced at $49.99, with one geared towards college students/adults and the other towards families.
Highlighting the service, senior vice president of marketing for Hasbro Gaming, Jonathan Berkowitz, told Business Wire, "Delivered right to subscribers' doorsteps, the Hasbro Gaming Crate subscription service makes it easy and convenient for families and fans to try new games. Whether you're planning a game night at home with your kids, or out with a group of friends, we're confident the games our experts have selected for each crate will provide plenty of fun, laughter, and friendly competition."
How Will It Fare Against Its Competition?
Hasbro should have a unique competitive advantage with its subscription as it produces its own games. This allows them to offer exclusive games only available through the subscription. Current competitors like Steam, Game Box Monthly and One Play are unable to offer this service and have to use third party products.
Additionally, service like Kiwi Crate and Amazon.com, Inc. (NASDAQ: AMZN)'s subscription service for STEM boys are also competitors who have recently entered into this space.
If Hasbro is able to create a very exclusive set of games, only available through the subscription service, the service will likely be very enticing to consumers. However, if Hasbro offers only its standard games, consumers might be more enticed to go to Amazon or Toy "R' Us to buy the latest board games. In the past, the toy maker has waited to release games at retailers immediately following their release.
Capitalizing On A Trend
Subscription-based business models continue to become more and more popular. Specifically, Smart Insights highlighted how the model provides flexibility for both consumers and businesses which make it incredibly attractive for both parties.
"We've seen the subscription trend and how strong it has become outside of our industry and we thought 'Gamers are into their games and they want to try new games all the time. It is a perfect marriage for the gaming category,'" Berkowitz told Future.
Time Will Tell
If Hasbro is able to come out every 3 months and produce an exclusive set of games, the subscription service should fare well against its biggest competitors.
Related Links:
What The 'Red Dead Redemption 2' Delay Means For Take-Two Investors
Argus Makes A Play Date With Hasbro, Initiates At Buy
_______
Image Credit: By Bill Branson (Photographer), Public Domain, via Wikimedia Commons
Posted-In: Business Wire Game Box Monthly Gaming Crate Jonathan Berkowitz Kiwi Crate Monopoly OuijaNews Trading Ideas Best of Benzinga
View Comments and Join the Discussion!