Trump Releases Tax Plan; Still No Sign Of His Returns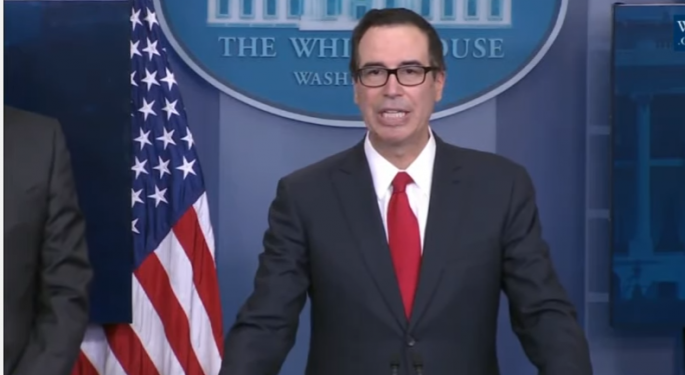 Secretary of the Treasury Steven Mnuchin revealed the White House's proposed tax plan Wednesday.
It could save President Donald Trump the annual earnings of 4,300 minimum wage workers. Savings estimates actually range between $35 million and $65 million, and because Trump hasn't released his tax returns — nor does he plan to, said Mnuchin — no one can be certain.
One thing is known: Between the proposed elimination of the 28-percent alternative minimum tax and lowering of the S-Corporation income, the president will save a lot of money with his new tax plan.
So will many others. Here are some of the winners of the White House tax teased:
Details And Winners
The White House proposed to create jobs for and relieve the financial and temporal tax burdens of American families by:
Reducing the number of tax brackets from seven to three: 10 percent, 25 percent and 35 percent.
Doubling the standard deduction.
Repealing the alternative minimum tax.
Repealing the estate tax.
Setting a 35-percent top individual tax rate.
Preserving home ownership deduction.
Preserving charitable gift tax deduction.
And generally relieving families with child care expenses.
Meanwhile, setting a 15-percent standard for the now 35-percent corporate tax and 39.6-percent S-corporation tax would foster growth among both major companies and private businesses. The effect would compound a one-time tax on money held overseas and a repeal of the 3.8-percent Affordable Care Act (referred to as the "Obamacare tax" in the press handout) tax.
Additionally, a territorial tax system coupled with the exclusion of a border-adjustment tax would keep prices low for American shoppers, retailers and grocers.
Why It's Still Controversial
But the plan won't be met with complete approval. Some point to expert analyses predicting a 10-year, $2 trillion national debt expansion. Others suggest the plan favors the wealthy and incentivizes loophole exploitation.
However, the plan explicitly eliminates tax breaks meant to benefit wealthy taxpayers, and Mnuchin assured in a Wednesday press conference the White House's commitment to prevent legal payment evasion and fairly secure taxes owed by wealthy Americans.
________
Image Credit: "Donald Trump New Tax Reform Plan - Full Press Conference 4/26/2017" Screengrab from YouTube
View Comments and Join the Discussion!
Posted-In: President Donald Trump Steven MnuchinNews Politics Legal Events Media General Best of Benzinga