'Mother Of All Bombs' Made By Government Plant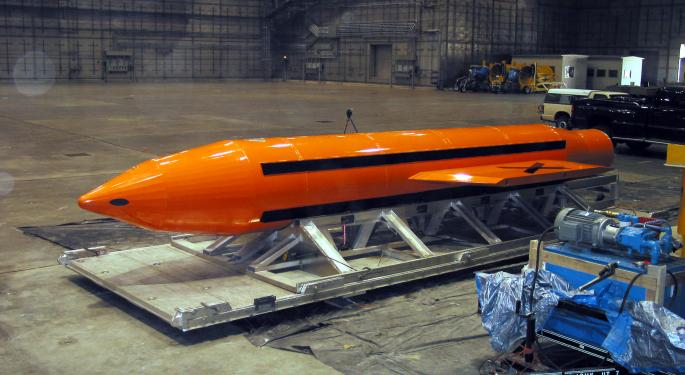 The decision to launch a MOAB mega-missile into Afghanistan has raised interest in the maker of such an ostentatious bomb, which isn't a company at all. It's a little-known plant owned and operated by the government to create weapons of really massive destruction.
In a world in which the foremost superpower has an influential military-industrial apparatus heavily weighted in the private sector, the McAlester Army Ammunition Plant is literally publicly owned. This is where the MOAB — "massive ordnance air blast," colloquially known as the "mother of all bombs" —was built.
More About MOAB
Even though it is a guided missile, it's not particularly high-tech. It's blast radius is huge, and rural Afghanistan is riddled with flyspeck villages that don't appear on maps. Reporters in the region have found decimated villages from U.S. air strikes in which no so-called collateral damage was reported, mainly because few places on the planet are more isolated.
Built since 2002, the military has been chomping at the bit to find the right time and the right target to unleash the weapon. It was apparently aimed at a series of ISIL tunnels, though its blast radius leaves little doubt that non-combatants were impacted.
Mark Cancian, senior adviser at the Center for Strategic and International Studies, told Wired magazine:
"The MOAB is not a particularly sophisticated weapon," Cancian said. "It is really just a big canister with a lot of explosive in it."
Related Links:
U.S. Launches 'Mother Of All Bombs' On ISIS
United We Sting: Scorpion Drops From Overhead Bin And Stings Passenger On Flight
_______
Image Credit: By U.S. Department of Defense photograph - United States Department of Defence (internet archive), Public Domain, via Wikimedia Commons
Posted-In: Center for Strategic and International Studies Mark Cancian McAlester Army Ammunition PlantNews Topics Events Global General Best of Benzinga
View Comments and Join the Discussion!