U.S. Launches 'Mother Of All Bombs' On ISIS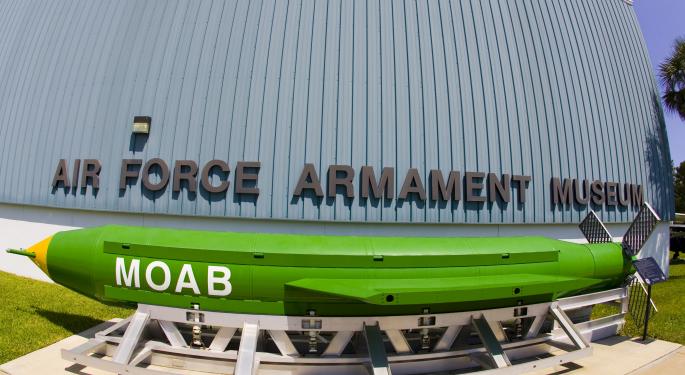 The U.S. military dropped the "Mother of All Bombs" — the most destructive non-nuclear bomb in the American weapons cache — Thursday morning on ISIS tunnels in Afghanistan.
According to CNN reports, citing four military officials involved in the mission, the 21,600-pound GBU-43/B Massive Ordnance Air Blast had never before been deployed outside testing before its detonation in the Achin district of Nangarhar.
Discharged by an MC-130 aircraft, the weapon was developed during the Iraq War and approved for deployment by the commander of U.S. forces in Afghanistan, Gen. John Nicholson.
The U.S. military was still assessing damage of the one-mile-radius explosion at the time of publication, and markets were relatively unmoved by the news.
Related Links:
CNBC Survey: Trump Is Doing A Good Job...Sort Of
The 'Irrational Exuberance' Of 1996, And How You'll Know It Has Returned
__________
Image Credit: "Mother Of All Bombs" on display at U.S. Air Force Armament Museum, Fort Walton Beach, Florida. By Gatrfan - Own work, Public Domain, via Wikimedia Commons
Posted-In: cnnNews Politics Events Global Media General Best of Benzinga
View Comments and Join the Discussion!