A Primer On Alexa Skill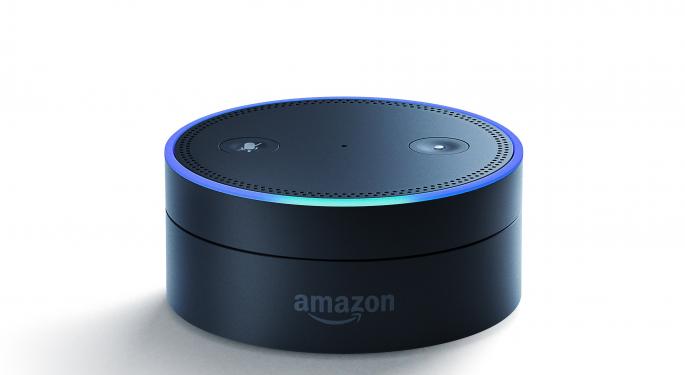 Amazon.com, Inc. (NASDAQ: AMZN) announced promotional credits for Alexa developers to build and host most Alexa skills using Amazon Web Services (AWS) promotional credits for Alexa developers to build and host most Alexa skills using Amazon Web Services (AWS).
Alexa, the voice service that powers Amazon Echo, provides capabilities, or skills, that enable customers to verbally interact with devices in a more intuitive way.
Skills are essentially apps built by third-party developers, enabling Alexa to deliver additional services and features. Examples of Alexa skills include the ability to play music, answer general questions, set an alarm or timer and more.
Many Alexa skill developers take advantage of the AWS Free Tier, which offers 1 million AWS Lambda requests and up to 750 hours of Amazon Elastic Compute Cloud (Amazon EC2) compute time per month at no charge. However, if developers exceed the AWS Free Tier limits, they may incur AWS usage charges each month.
Promotional Credits
To counter this drawback, Amazon launched promotional credits. Now, developers with a published Alexa skill can apply to receive a $100 AWS promotional credit and can also receive an additional $100 per month in AWS promotional credits if they incur AWS usage charges for their skill.
The move would remove the price barrier and encourage developers to build robust Alexa skills on AWS. It's also intended to take developer mindshare away from Google Cloud.
"There is already a large community of incredibly engaged developers building skills for Alexa," Steve Rabuchin, vice president of Amazon Alexa, said in a press release. "Today, we're excited to announce a new program that will free up developers to create more robust and unique skills that can take advantage of AWS services. We can't wait to see what developers create for Alexa."
Alexa Integration
Since the announcement, many firms have announced that their platforms will be utilizing Alexa Skill.
GrubHub Inc (NYSE: GRUB) has announced it is integrating its ordering capabilities with Amazon Alexa. The new Grubhub skill for Alexa will make it easier for customers to reorder food from Grubhub's network of more than 50,000 restaurants using only their voice.
iRobot Corp. (NASDAQ: IRBT), a leader in consumer home robotics, announced its integration with Amazon Alexa, allowing consumer to control Roomba vacuuming robots with voice-activated commands.
The cloud communications services company RingByName has also integrated with Alexa. Once online, this partnership will allow users to play voicemails, record calls, set up conference calls and more, all using their voice. RingByName estimated there are more than 7 million Alexa devices in existence.
Posted-In: Amazon AWS GrubHub iRobot RingByNameNews Tech Media Best of Benzinga
View Comments and Join the Discussion!