Trump Dump? Market Sells Off During Trump's Inauguration Speech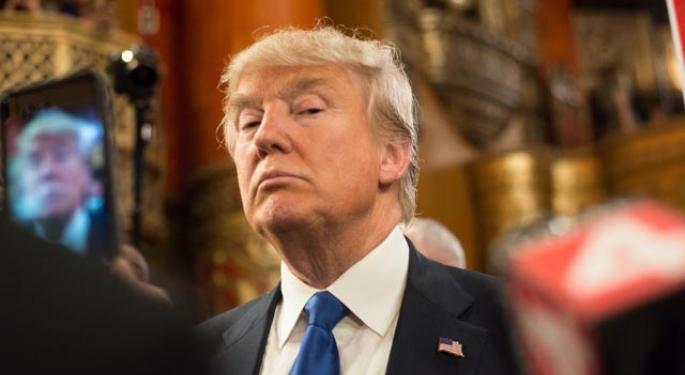 After opening the day up more than 13 points, the S&P 500 sold off sharply when Donald Trump began his inauguration speech. Following the selloff, the SPDR S&P 500 ETF Trust (NYSE: SPY) is now up just 0.2 percent on the day.
Investors were initially very optimistic about the stock market's prospects following Trump's election victory. However, according to the latest AAII Sentiment Survey, bullish market sentiment fell below 40 percent this week for the first time in 10 weeks. The previous nine-week streak was the longest such streak since 2014, but it came to a screeching halt this week when bullish sentiment dropped 6.6 percent to 37.0 percent. The 37 percent bullish sentiment reading is the lowest number since Election Day.
Despite Trump's promised of corporate deregulation and lower taxes, investors may be sobering up to the idea that the stock market is within a stone's throw of all-time highs, and international tensions between the U.S. and its top international trading partners are at their highest levels in recent memory.
Recent history shows Inauguration Day hasn't been kind to investors, particularly for first-term presidents.
The S&P 500 has only managed one Inauguration Day gain since Ronald Reagan's second-term inauguration back in 1985. That one gain was a paltry 0.07 rise on Bill Clinton's second Inauguration Day.
Even Reagan himself spooked the market prior to his first term in office. The S&P 500 declined more than 2.0 percent on Reagan's first Inauguration Day in 1981.
Posted-In: Donald Trump Trump DumpNews Politics Events Markets General Best of Benzinga
View Comments and Join the Discussion!