17 Must-Watch Metrics In The New Trump Era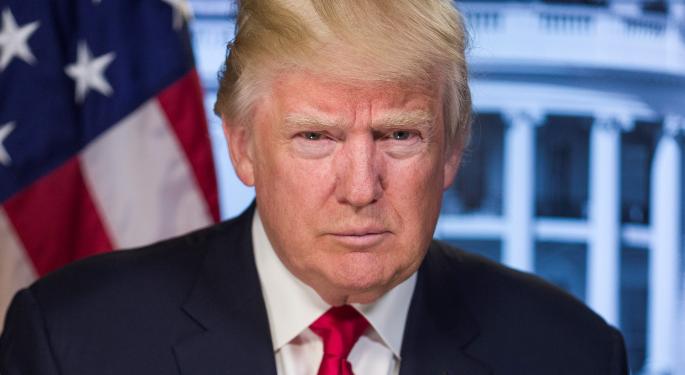 On Friday President-elect Donald Trump officially dumped the "elect" adjective and was sworn is as the 45th president of the United States.
Bloomberg noted that Trump's campaign focused on "draining the swamp" and creating jobs.
17 Metrics To Watch
As such, here are the 17 traditional and non-traditional metrics that will track the president's performance over the coming months and years:
Manufacturing Jobs: A key promise from Trump can be tracked through the Bureau of Labor Statistics' monthly release of the payroll employment in the manufacturing sector.
Rust Belt Jobs: Trump promised to restore jobs to Pennsylvania, Ohio, Michigan and Wisconsin.
Working Class Men: Labor force participation among the 25- to 54-year-old men with a high-school degree or less has been declining over the past 50 years. Will Trump reverse this trend?
New Babies Named Donald: This isn't a joke as many parents name their children after presidents they admire.
Canada, Eh: Interest among Americans wanting to move to Canada surged during the campaign trail. Will many fulfill their pledge to move north of the border or can Trump unite Americans under his administration?
Early Exit Index: Odds of Trump resigning or being impeached before his first term concludes stands at even, according to Ladbrokes. Granted, betting markets are often a poor indication of future events but it is nevertheless a good indication of the current mood and sentiment.
Polling Questions: The answer to the traditional poll question "is the nation headed in the right direction or off on the wrong track?" will be closely monitored.
Dow Jones And Approval Ratings: Pretty self explanatory, the performance of the stock market and Trump's approval ratings are two metrics that will gauge the president's performance.
S&P 500: The stock market is in some ways correlated with investor sentiment of the president's ability to boost the economy.
Syria's Dying Children: Some human rights groups estimate 15,948 Syrian children have been killed during the country's ongoing civil war. One way to measure Trump's leadership is to track how many more or fewer children die in Syria under Trump's watch.
Deficit As A Percentage Of GDP: The U.S. budget deficit or surplus as a percentage of gross domestic product had its biggest annual improvement under former President Barack Obama.
Trade Deficit: Trump and his advisers argued during the campaign trail the current trade deficit should be brought down all the way from $460 billion to zero.
Offshore Cash: Another campaign promise of Trump was to make it more favorable for U.S.-based companies to repatriate cash that is held abroad.
Regulations: Trump has campaigned heavily on lowering or removing regulation that is hurting American businesses. Thankfully there is a way to track this through the RegData index.
Home Prices In D.C.: Trump's administration will "bring in new people of a type who don't usually live here" and "it may also chase away others in disgust."
The Bannon Index (Google news search interest): Trump's chief strategist Stephen Bannon could quietly operate in the background and if that is the case Trump will remain in control.
Real Median Income: Finally, real median income peaked in the year 2000, but Trump's economic plans is expected to help boost the real median income index higher.
Image Credit: By The White House (whitehouse.gov) [Public domain], via Wikimedia Commons
Posted-In: News Emerging Markets Politics Forex Topics Events Global Econ #s Best of Benzinga
View Comments and Join the Discussion!