Fiat Chrysler Accused Of Allowing Excess Diesel Emissions In 100,000 Vehicles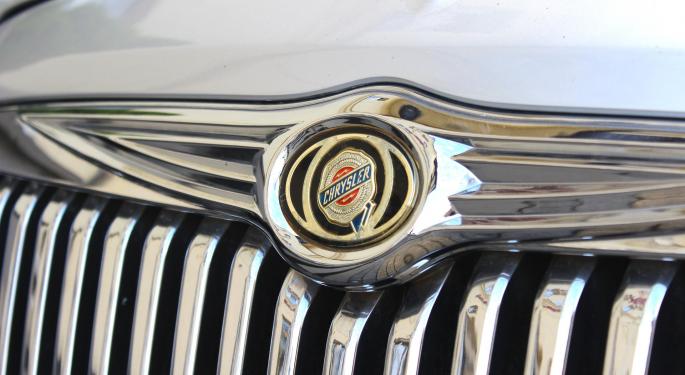 Are we seeing a case of deja vu in the auto industry?
The U.S. Environmental Protection Agency (EPA) is expected to accuse Fiat Chrysler Automobiles NV (NYSE: FCAU) of using software that was able to control diesel emissions in 100,000 vehicles, according to a Reuters report.
An EPA official later said a potential fine could reach north of $4 billion.
Fiat Chrysler's stock plunged more than 14 percent to $9.43.
Shares of Cummins Inc. (NYSE: CMI), a manufacturer of diesel engines and supplier to Fiat Chrysler, were also trading lower by more than 2 percent on the news.
Owners of Dodge and Ram trucks sued Fiat Chrysler and Cummins, its engine supplier, last year for allegedly equipping the vehicles with software designed to cheat on emissions tests.
The plaintiffs argued that the software prevents regulators from seeing the engines' true emissions which exceed the legal limits.
It appears the vehicles under scrutiny are not equipped with Cummins-produced engines. According to Diesel Army, Cummins isn't a supplier to the 2014-2016 model year light duty 3.0 liter diesel engines.
A Cummins spokesperson confirmed with Benzinga the company supplies the 6.7-liter engine in Ram trucks, not the 3.0-liter engine in question.
Deja Vu
The news report appears eerily similar to Volkswagen's (OTC: VLKAY) scandal when it secretly installed software, dubbed a "defeat device," in its diesel cars which were programmed to cheat on clean air tests.
The scandal led to billions of dollars in fines and settlements and compensation for Volkswagen's car owners who purchased a diesel vehicle.
What makes Fiat Chrysler different from Volkswagen is that the former does not put defeat devices in these engines, according to CNBC's Phil LeBeau.
View Comments and Join the Discussion!
Posted-In: Auto Makers Diesel Engines Emission Scandal EPANews Legal Exclusives Movers Best of Benzinga