A Problem Area Within A Problem ETF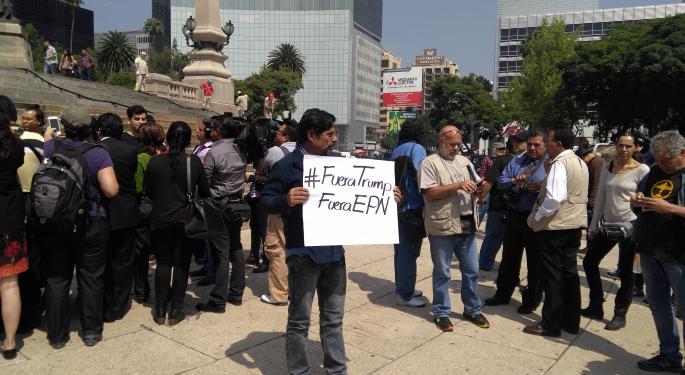 The iShares MSCI Mexico Inv. Mt. Idx. (ETF) (NYSE: EWW) is in a well-documented tailspin. Down nearly 12.1 percent year-to-date, the largest exchange-traded fund tracking stocks in Latin America's second-largest economy is one of this year's worst-performing single-country emerging markets ETFs.
Trump, Mexico And ETFs
EWW's struggles worsened in the wake of Donald Trump's victory in the recent U.S. presidential election. Just this month, the Mexico ETF has tumbled nearly 17 percent. Latin American equities have been important cogs in this year's emerging markets resurgence, but Mexican stocks are obvious exceptions. Of the six major single-country ETFs tracking Latin American economies, EWW is the only one in the red this year.
While Mexico was widely cited as one of the emerging economies most vulnerable to a Trump victory, some market observers are highlighting specific areas of Mexico's equity market that could come under pressure if a Trump White House embarks upon significant changes in U.S. economic policy.
"Mexican banks would be among the most exposed in Latin America should any change in US economic policy under President elect Donald Trump significantly affect trade and growth within the region," said Fitch Ratings in a recent note. "Over the short to medium term, the effects to Mexican banks would likely be partially contained by the banks' strong financial fundamentals. However, over the longer term, there could be downside potential for asset quality, loan growth and profitability if there is shift toward US protectionism."
A Little More About EWW
Although Mexico is a major commodities producer, EWW's direct exposure to commodities is not as high as other Latin America ETFs. Sure, the materials sector is 16.7 percent of EWW's lineup, but the Mexico ETF is more defensively positioned with a combined weight of over 38 percent to defensive consumer staples and telecom names, leading to an earnings multiple that is often higher than traditional emerging markets benchmarks.
As for possible weakness in Mexican banks, that is problematic for EWW because financial services stocks account for 20.6 percent of the ETF's weight, making that the ETF's second-largest sector weight behind consumer staples.
"The potential downward risks to Mexico's economic outlook would have direct effects on the banking sector. Prolonged and heightened uncertainty could weigh on consumption and investment growth, potentially acting as a drag on lending and overall profitability. Additionally, the recent price decline in Mexican sovereign debt could translate into charges against valuations in the banks' investment portfolios, representing earnings challenges in trading income," added Fitch.
Image Credit: By PetrohsW (Own work) [CC BY-SA 4.0], via Wikimedia Commons
View Comments and Join the Discussion!
Posted-In: Short Ideas Emerging Markets Emerging Market ETFs Politics Top Stories Economics Markets Trading Ideas Best of Benzinga