10 Most Important Days In Twitter's History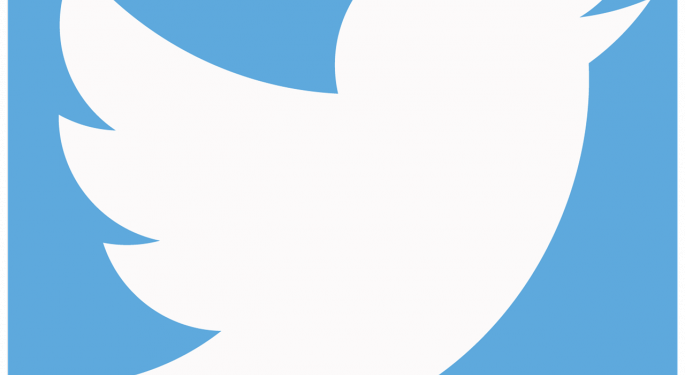 Friday marks the 10th anniversary of Twitter Inc (NYSE: TWTR)'s launch to the public. To celebrate the occasion, Benzinga took a look back at some of the most notable days in its history.
1. First Tweet
Jack Dorsey sent out the first ever Tweet on March 21, 2006.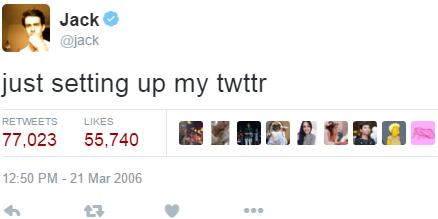 2. Twitter Becomes Twitter
Little known fact to many, in October 2006, the first Twitter prototype was developed by Dorsey and others to be used as internal service for the podcasting company Odeo. In October 2006, Dorsey and others formed a company called Obvious Corporation, acquired Odeo and all of its assets. On April 19, 2007, Twitter was spun off from Obvious Corp to form its own entity - Twitter, Inc.
Related Link: 10 Women In Finance To Follow On Twitter
3. Hashtags Are Now A Thing
On August 23, 2007, Chris Messina was credited with being the first Twitter user to propose the use of hashtags.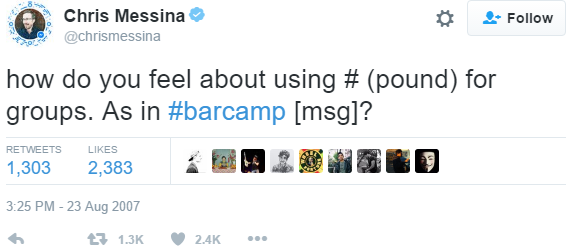 4. Twitter Mixes With Politics
On June 17, 2009, the U.S. State Department formally requested Twitter to delay a network upgrade. According to Time, the request was made to protect the interests of Iranians who were using Twitter's social media platform to protest against the country's rigged political election.
5. Promoted Tweets & Promoted Accounts
Twitter introduced Promoted Tweets on April 13, 2010. Promoted Tweets are regular Tweets that advertisers pay to be promoted to a wider group of users.
On October 4, 2010, Twitter followed up with Promoted Accounts which introduce a wide variety of Twitter accounts that users may have an interest in.
6. Williams Out As CEO, Costolo #newtwitterceo
Evan Williams, Twitter's CEO since October 16, 2008, announced on October 4, 2010, he would step down to focus on product strategy. Dick Costolo, the Chief Operating Officer at that time, was named new CEO.
7. 5th Birthday
To celebrate the fifth anniversary of the first ever Tweet, Twitter revealed some fascinating and never previously disclosed statistics.
It took three years, two months and one day to reach the one billionth Tweet. Now, it takes one week for users to send one billion Tweets.
8. Twitter Announces 100 Million Active Users
Twitter said on September 8, 2011 its platform now boasts 100 million users that "turn to Twitter to share their thoughts and find out what's happening in the world right now."
Related Link: The Top 100 Financial People To Follow On Twitter: 2016 Edition
9. Twitter Files For #IPO
Appropriately enough, Twitter Tweeted on November 6, 2013, that it priced an initial public offering of 70 million shares of its common stock at a price of $26 per share.
Shares began trading at 10:50 a.m. ET on November 7, 2013, opened for trading at $45.10 and closed at $44.90 after trading as high as $50.09.
10. Dorsey In, Costolo Out
Several Twitter shareholders were irritated at Twitter's disappointing growth in users and monetization. Hoping to restore investor confidence, Twitter announced in June 2015 that Costolo would depart as CEO on July 1.
The company's co-founder and current chairman Jack Dorsey has held on to the CEO title to this day.
Honorable Mentions
Twitter's 10-year history contains to many milestones to compile in a top 10 list.
Honorable mentions include the launch of Vine, the introduction of relevant Tweet timelines, Highlights, Direct Messages, a partnership with Google to bring Tweets to Google's search results, the introduction of Gifs in Tweets and the launch of Moments.
And of course, the most retweeted Tweet ever:
Posted-In: Dick Costolo evan williams Jack DorseyNews Education Top Stories Tech General Best of Benzinga
View Comments and Join the Discussion!