Another AUM Record For ETFs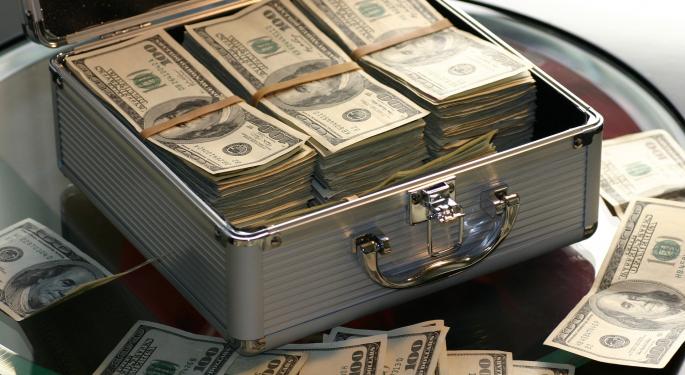 Although flows to equity funds have recently languished, the exchange-traded funds eclipsed another AUM (assets under management) record last month, finishing June with a combined $3.17 trillion in assets under management.
Exchange-traded products listed around the world added $31.38 billion in assets during the month of June marking the 29th consecutive month on net inflows, according to ETFGI, a London-based ETF research firm.
The United States is still, by far, the world's largest ETF with over $2.2 trillion in combined ETF assets at the end of June. However, record asset levels were also touched in Japan ($147.67 billion) and Canada ($79.14 billion), according to ETFGI data.
Other Milestones
Recently, milestones have been easy to come by for ETF issuers. Earlier this week, BlackRock, Inc. (NYSE: BLK), parent company of iShares, the world's largest ETF issuer, said bond ETFs around the world now have $600 billion in assets under management.
Related Link: AdvisorShares Launches Actively Managed Small-Cap ETF
Of the nearly $23 billion added to global bond ETFs during the second quarter, iShares captured $11.9 billion of that total, including $4.7 billion in the United States. Year-to-date, bond ETFs around the world have added $66.7 billion in new assets with $39.3 billion allocated to iShares funds, including $24.3 billion to the issuer's U.S.-listed bond ETFs.
"The Global ETF/ETP industry had 6,424 ETFs/ETPs, with 12,268 listings, assets of US$3.177 trillion, from 284 providers listed on 65 exchanges in 53 countries," said ETFGI.
Last month, iShares ETFs added $13.43 billion in new assets, with Vanguard following at $10.02 billion in new assets. Nomura was third for the month in terms of asset gathering at $2.1 billion, according to ETFGI data.
Most Recent Records
As of July 11, the top asset-gathering ETF in the U.S. year-to-date is the SPDR Gold Trust (ETF) (NYSE: GLD). GLD, the world's largest gold ETF, has hauled in $13.5 billion in new assets, an advantage of $6.1 billion over the second-place iShares Barclays Aggregate Bond Fund (NYSE: AGG). Four of the top 10 asset-gathering ETFs in the United States this year are fixed income funds.
Did you like this article? Could it have been improved? Please email feedback@benzinga.com to let us know!
View Comments and Join the Discussion!
Posted-In: AUM ETFGIBonds Broad U.S. Equity ETFs Specialty ETFs Top Stories Markets ETFs Best of Benzinga