FBI Background Check Data Indicate Gun Purchases May Set A Record In 2016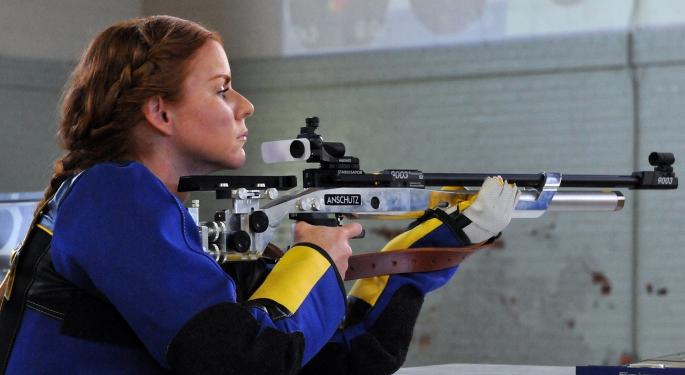 American consumers are breaking records this summer in a controversial category: gun sales. The Federal Bureau of Investigation released its background check data late Friday, data which is used as a proxy for the level of gun sales, and the numbers suggest to CNN Money that 2016 is on track to beat the record high for background checks set last year.
A peek at the numbers reveals:
There were 2,131,485 background checks performed in June of 2016.
That is a 39 percent year-over-year increase from 2015, while 2015 increased over 2014 by just 10.5 percent.
June is ordinarily a month of slumping gun background checks, with June 2015 down 3 percent from May, and June 2014 down 7 percent from the month prior. This year, June checks were up 14 percent.
The FBI data cannot be treated as an accurate read on total gun sales, as they only occur when a purchase is initiated at a federally licensed dealer. A purchase can involve multiple guns, some customers fail the check and, most notably, sales between private individuals are not reflected in these numbers.
Related Link: Gun Control Social Chatter Reaches Historic High
Nonetheless, the number of checks can provide a clear picture of the significant rise in gun sales and interest in gun purchases. In the first half of 2016, the FBI had already conducted 13,829,491 checks, which is 60 percent of the total for the entire year of 2015.
Undoubtedly, some of the increased interest is related to the recent shooting in Orlando. When mass shootings and terrorist attacks take place, Americans typically respond with increased interest in gun purchases, and gun stocks like Smith & Wesson Holding Corp (NASDAQ: SWHC) tend to rise.
December 2012 and December 2015 will be remembered for both the mass shooting at Sandy Hook Elementary and the San Bernardino shooting, respectively. Both incidents instigated a spike in FBI background checks of similar size to the one just experienced in June of this year. Smith & Wesson stock went up 14.8 percent the month of the San Bernardino attack. Recently, shares rose 11.5 percent for the month of June following news of the Orlando shooting.
View Comments and Join the Discussion!
Posted-In: background check data cnn money FBINews Topics Legal Media General Best of Benzinga