Market Volatility Concerns Hedge Fund Managers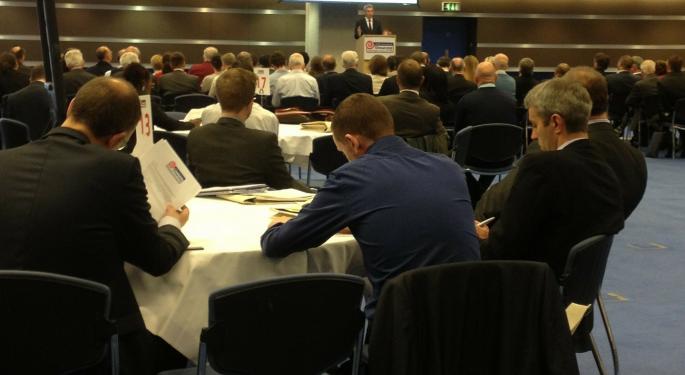 The SkyBridge Alternatives Conference (SALT) is a congregation of experts in various sub-industries throughout the United States, each of whom have come together to facilitate balanced discussions and communication.
Market volatility creates a level of uncertainty in the markets that can be difficult to navigate. Erik Schatzker of Bloomberg TV sat down with hedge fund managers Kyle Bass of Hayman Capital, Paul Brewer of Rubicon Fund Management, Leon Cooperman of Omega Advisors, and Kenneth Tropin of Graham Capital Management.
The round table was friendly, but the air was thick with a tense undertone.
Concerns Abound
Managers are worried about the market volatility. Tropin said, "Markets are uncertain in general. Monetary policy is losing its effectiveness and risk on trades are running out of gas." While Brewer added, "Price makers are retreating and good opportunities are harder to capture."
A passionate Bass jumped in, "There's no specialist market, no depth," referring to consolidation among market makers. "It feels like March or April 2007 in terms of equity and credit markets."
Related Link: SALT 2016: John Boehner Talks Real Issues In Real America
Cooperman, a traditional deep value investor, buying and holding stocks with a longer time horizon expressed his concerns over market uncertainty as well. "There is limited liquidity and [investor] moves to passive investing will exacerbate the lack of liquidity."
Hedge funds aren't only facing a volatile market but investors are becoming less willing to pay traditionally higher fees for performance that could be easily beat using a low cost index.
The panel overwhelmingly believes a few things must happen, and one of those is that fees will come down. The issue with investors pulling funds out is it makes it difficult for funds to invest in positions and realize the opportunity they're working toward. Cooperman said, "To be successful, you will need a long term, more committed capital pool."
Bass said, "In 2008, there wasn't a single sell-side research report that showed the bad assets around the world. China is one of the greatest opportunities of all time right now." Cooperman didn't comment on Bass's China position, but he did say that a slowing of China's economy won't hurt U.S. stocks very much. "My guess is it's overemphasized."
Moderator Schatzker asked Bass, "How do you maintain conviction in China [for a long time]?" Bass replied, "it's easy to maintain conviction, but how do you maintain investors?" His comment highlighted the concern of the panel. They're looking for investors who want exposure to alternative assets and are willing to see the investment theme through.
View Comments and Join the Discussion!
Posted-In: Bloomber TV Erik Schatzker Graham Capital ManagementNews Hedge Funds Events Trading Ideas General Best of Benzinga