CinemaCon 2016: Lions Gate Looks For New Cash Cows Following 'Hunger Games' Conclusion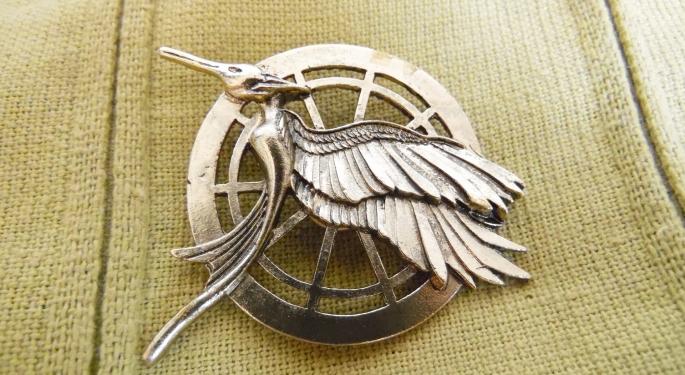 Over the last few days, Hollywood took a trip to Las Vegas for the annual CinemaCon event. It was there that exhibitors from all around the country came to see what movies are going to be burning up their screens through the rest of the year and beyond. This is a studio-by-studio recap of the biggest news to come out of the week-long event.
Here are Lions Gate Entertainment Corp. (USA) (NYSE: LGF)'s top takeaways.
Future Franchise
Not even a year removed from "The Hunger Games," and Lions Gate is already seeing signs from investors that they are worried about the studio's pipeline. With the "Divergent" series not living up to expectations, it's up to executives to win over skeptical exhibitors.
The approach Lions Gate took was to harp on its successful brands returning to theaters in 2016. Primarily "John Wick 2," which re-teams Keanu Reeves with "Matrix" co-star Laurence Fishburne and "Now You See Me 2," which was fully screened for attendees. Neither will hit the same highs as "Hunger Games," but both could prove very valuable.
Related Link: Amazon And Lions Gate Developing TV Show Based On Bob Dylan Songs
'Madea'
The other big franchise making its presence felt came as a surprise to all in attendance as Tyler Perry appeared to promote the return of the "Madea" films. Perry, whose contract with Lions Gate expired the other year, was expected to retire the Madea character for a while.
"Boo! A Madea Halloween" will hit theaters in October and could be a big deal for both Perry and Lions Gate, which each initially used the other to help build their brands. The pair split after Perry's films became less profitable and Perry became anxious to expand out, but a reunion was likely always a possibility. Given both sides could use a hit right about now, the timing seems right.
High Concept
One big trend over all is higher concept fare that combines proven concepts with new twists. A prime example is the Ryan Gosling/Emma Stone musical "La La Land," which opens at the end of the year. It has been described as a love letter to Hollywood, and if the awards voters love one thing, it's their own industry. Could this be Lions Gate's return to the Oscar race?
The studio will also go the more traditional route with "Deepwater Horizon," the true story about the April 2010 offshore oil drilling rig explosion that led to one of the worst spills in history.
Action director Peter Berg is looking to once again put the spotlight on the unsung heroes of the world as he did with 2013's "Lone Survivor" and this re-team with Mark Wahlberg could see similar success if early reaction holds true.
Next: CinemaCon 2016: Universal Primed For Continued Success With Diverse Slate
Posted-In: Deepwater Horizon Divergent Emma StoneNews Events Tech Trading Ideas General
View Comments and Join the Discussion!