Netflix Is Shifting Its Original Programming Model With These Key 2016 Series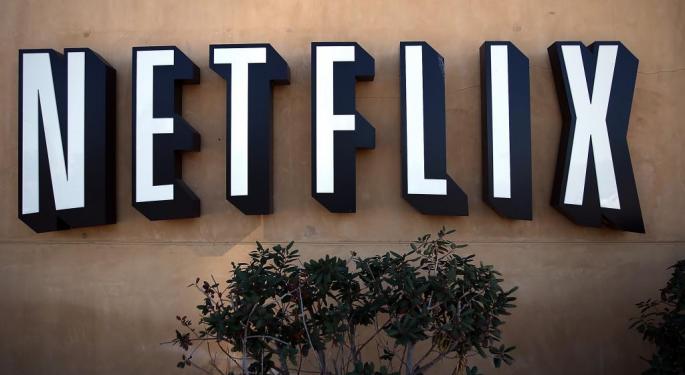 Netflix, Inc. (NASDAQ: NFLX)'s dominance in 2015 was largely based on the company's ability to launch innovative original programming. Last Sunday at the winter edition of the Television Critics Association press tour, the streaming network showed its pipeline is not slowing up in 2016.
Among Netflix's 2016 offerings will be roughly 600 hours of original series. This includes over 30 programs aimed at adults and a continued push into series aimed at kids and teens. The biggest standouts among that older group are "Fuller House," "The Ranch" and "The Get Down," which all boast star-studded casts and a possible preview of changes to come to the streamer.
Fuller House, the re-boot of the classic Full House late 80's/early 90's comedy, and The Ranch, which centers on a reunion between That 70's Shows stars Ashton Kutcher and Danny Masterson, are both multi-camera sitcoms.
Related Link: Here's When Netflix Will Start Raising Prices
Why It Matters
Multi-camera shows are usually shot in front of a studio audience, include a laugh track and carry a different look and feel when broadcasted. This is important because it's an area Netflix hasn't really explored in the past.
Traditionally, the network airs single-camera comedies such as "Arrested Development" and "Grace & Frankie." To go from none to two in one swing continues to show how Netflix is looking to evolve in the market.
The Ranch will also switch up the traditional release model by rolling out its 20 episodes over two 10 episode blocks.
Netflix's new drama "The Get Down" will also do something similar but for entirely different reasons.
While the decision to split The Ranch's episodes look to be done as a test case, dividing The Get Down's 12 episode-order is the result of showrunner Baz Luhrmann's longer than usual production time. The director of movies like "Moulin Rouge" and "The Great Gatsby" remake, Luhrmann is notorious for his meticulously planned shoots, but that's also part of the draw of having him on board.
What Sarandos Thinks
Netflix chief content officer Ted Sarandos has said while this was done to expedite the process, all involved also believed there was a natural story break after the first six episodes.
While Sarandos has also said been steadfast in that these changes don't represent a significant shift in his roll-out strategy, it is something interesting to keep an eye on.
Having data to compare from a comedy and a drama will give executives a lot to think over. If Netflix notices an uptick in viewers then audiences may notice more shows adopting this new technique.
Posted-In: Ashton Kutcher Danny Masterson Ted SarandosNews Events Intraday Update Movers Tech Best of Benzinga
View Comments and Join the Discussion!