Nabisco Looks To Revive Its Cookie Business With Oreo Thins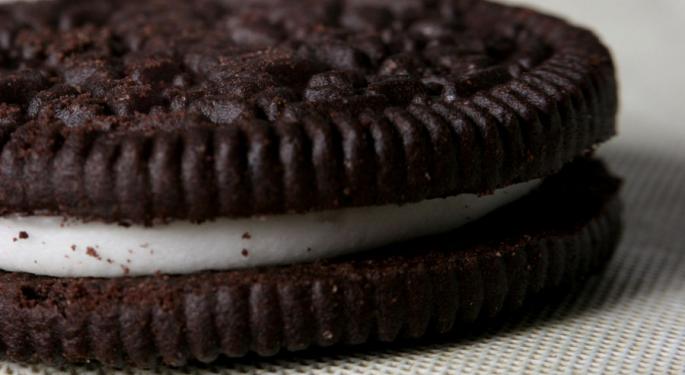 On July 13, Mondelez International Inc. (NASDAQ: MDLZ) is set to roll out a new version of one of the U.S.' most beloved cookies — Oreos. The company has revamped the cookie over the past few years by adding different flavors, but its newest offering, Oreo Thins, marks and effort to make the treats more appealing to adult consumers.
Scaled Down
Thins will be 7.5 mm thick, compared to the original cookie's 12.5 mm thickness. The smaller size also means lower calories—thins will have just 140 calories while original Oreos contain 160 calories. While the company says it isn't going to market the cookies as a diet snack, many expect they will appeal to consumers looking to slim down.
Related Link: BMO Upgrades Mondelez To Outperform; Notes 'Clear' Growth Trajectory
A Sophisticated Treat
Instead, the company says the cookies are an effort to make the dessert lighter and more sophisticated. Despite the reduced volume, the cream to cookie ratio remains the same, making Oreo Thins a lighter but still satisfying dessert. Oreo Senior Director for North America Janda Lukin explained the company's objective saying that if original Oreos were pancakes, Oreo Thins would be crepes.
Not The First Thins
This is not the company's first attempt at introducing the scaled down cookie. In China, Oreo rolled out a thinner Oreo last year in an effort to refresh the brand and win back customers. The effort appeared to help; the company sold $40 million worth of Oreo Thins during the first eight months they were available.
Image credit: mihoda, Flickr
View Comments and Join the Discussion!
Posted-In: Nabisco Oreo Oreo ThinsNews Events Best of Benzinga