Obama Sends First Tweet From An iPhone, Not BlackBerry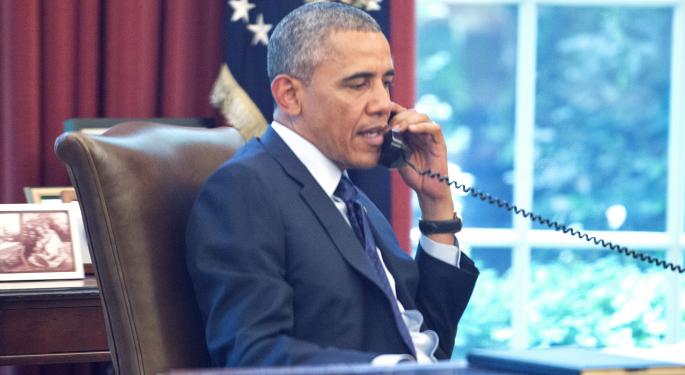 President Barack Obama has officially joined Twitter Inc (NYSE: TWTR).
At 11:38 a.m. ET, the handle @POTUS tweeted, "Hello, Twitter! It's Barack. Really! Six years in, they're finally giving me my own account."
The account already has more than 400,000 followers. The other account that has been associated with the president was @BarackObama, although that handle's Twitter bio says," This account is run by Organizing for Action staff. Tweets from the President are signed -bo."
The account has 60 million followers.
One interesting tidbit from the tweet? It was apparently sent from an Apple Inc. (NASDAQ: AAPL) iPhone: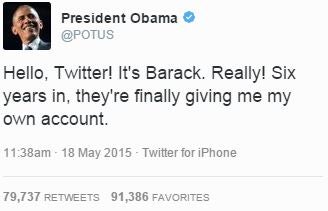 Obama has been a BlackBerry user for years.
Obama told Re/code's Kara Swisher earlier this year that, "I use a BlackBerry mainly because I am so restricted in what I can do, [which] is basically just messages, and it's still easier for me to tap off of... Basically most of my non-work-related stuff, I am working off the iPad and the girls all have iPhones. So, I can get around with that."
The Apple blog CultOfMac.com noted that, "Before he was elected to the Oval Office, Obama was known for being a BlackBerry Ltd (NASDAQ: BBRY) addict. Shortly after he took office, his allegiance switched to Apple — and he's been claiming he's been an iPhone lover ever since."
According to a transcriptM from December 2013, Obama told a Youth Summit audience, "Now, I am not allowed, for security reasons, to have an iPhone. (Laughter.) I don't know what your bills are. I have noticed that Sasha and Malia seem to spend a lot of time on it. (Laughter.)"
Posted-In: Barack Obama iPhone twitterNews Tech Best of Benzinga
View Comments and Join the Discussion!