As 2016 Election Approaches, Marijuana Could Be A Hot Topic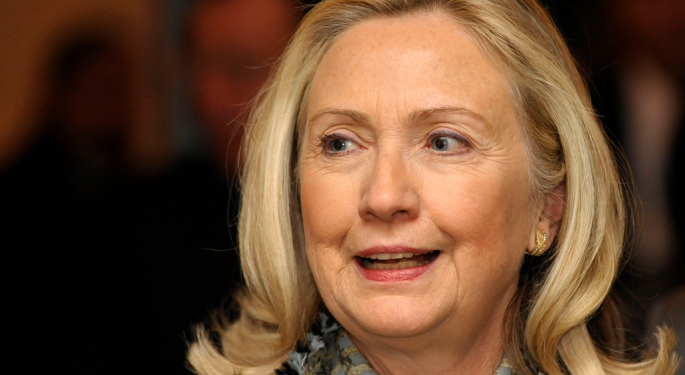 Candidates in next year's Presidential race will be forced to confront the growing controversy over marijuana legalization as the issue gets more and more publicity. The differing federal and state level regulations regarding the drug have posed some difficult questions and sparked lawsuits challenging states' legalization of marijuana.
Polling figures have also shown that the majority of young voters are in support of widespread legalization, something candidates will need to consider.
A Driving Force?
By showing support for marijuana legalization, candidates are likely to gain the support of the millennial voting population, which will make up a large part of 2016's voting population. A CNN poll showed that 64 percent of respondents between 18 and 34 were in support of legalizing the sale of marijuana, a preference that should continue growing as legal recreational use spreads.
Related Link: 5 Marijuana Stocks Getting Investors High
However, some say the issue isn't likely to be as polarizing as activists would have you believe. Issues like jobs and education, which tend to dominate presidential campaigns, will probably outweigh beliefs regarding legalizing marijuana.
The Spectrum Of Support
Because marijuana legalization has so many different aspects playing into it — how it affects children, whether or not it promotes criminal activity, if it is a gateway drug, how its revenue pads states' budgets, etc. — each candidate will have a differing view of how to support legalization.
Some, like Republican Senator and likely 2016 candidate Rand Paul have made their views clear.
He helped introduce a bill to Congress calling for a reclassification of the drug at the federal level, making states' legalization efforts more viable.
Others, like Hillary Clinton, have kept from making a clear statement about their viewpoint. Clinton has said she is unsure of how the legalization of marijuana will play out and that success or failure in states like Colorado and Washington will help drive future policy decisions.
Image credit: Frank Plitt, Wikimedia
Posted-In: marijuana reformNews Politics Top Stories Markets General Best of Benzinga
View Comments and Join the Discussion!