6 Impressive Technology Innovations From Domino's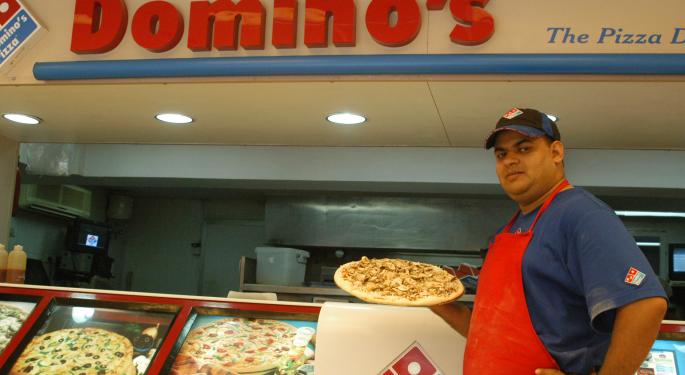 A recent article in ComputerworldUK noted that Domino's Pizza (NYSE: DPZ) believes most customers will place their orders via mobile devices by 2015. Perhaps that's true, or perhaps Domino's hopes it is; if any pizza company were positioned to take advantage of that prediction, it would be Domino's.
In addition to making great pizza, Domino's has a proven track record of making great use of technology.
Here's a list of the company's major technology innovations.
Online/Mobile Ordering
In 2007, Domino's rolled out its online and mobile ordering sites. At a time when other pizza places were still answering phones, asking customers to "please hold" and sometimes mixing orders up, Domino's was way ahead of the curve.
Pizza Builder/Pizza Tracker
Only one year later, in 2008, Domino's added an online Pizza Builder that allowed customers to choose crust, sauce and toppings, and see their choices visually added as their (simulated) pizza was built before their eyes.
At the same time, the addition of Pizza Tracker allowed customers to view the status of their order in a simulated progress bar.
Related Link: UPDATE: Miller Tabak Upgrades Domino's Pizza
Think Oven
The beginning of Domino's Facebook offering called Think Oven arrived in 2012. Think Oven allowed customers to submit suggestions in two categories: Idea Box and Current Project.
Idea Box was designed for general ideas including new menu items. Current Project allowed customers to submit solutions to problems Domino's was trying to solve. It even included a $500 prize for "best solution."
Splunk/Pizza Profiles
In 2013 Domino's announced that it was using Splunk Enterprise software to analyze the operational and sales data of its online business in an attempt to streamline and boost online and mobile sales.
During that same year, the company launched Pizza Profiles, which allowed customers to save their online ordering information and reorder their saved favorite combinations in five clicks, or about 30 seconds.
Dom
This year has seen the launch of Domino's own version of an Apple Siri-like app called Dom. Dom lets customers place orders by conversing with a computer-generated voice.
Apps are available for both iPhones and Android devices featuring what Domino's promised would be a "human-like, conversational" experience.
3D Pizza Builder iPad App
Another 2014 innovation involved the rollout of the company's 3D Pizza Builder iPad App. Similar to the original Pizza Builder, this one offers a much more realistic 3D view of customers' finished orders.
Moving Forward
With a commitment to online ordering -– especially via mobile -– Domino's could be expected to have even more technology innovations up its sleeve in the months and years to come.
At the time of this writing, Jim Probasco had no position in any mentioned securities.
View Comments and Join the Discussion!
Posted-In: Android Apple Domino's FacebookRestaurants Success Stories Tech General Best of Benzinga